Thomas Wibbeler sets multiple records in 51-50 loss to Marietta
Zanesville High School graduate and Capital University senior quarterback Thomas Wibbeler has made a habit of lighting up the scoreboard throughout his time in Columbus. But Saturday's game saw him take things up a notch once again.
Against Marietta in a Ohio Athletic Conference showdown, Wibbeler set a new, single-game passing record with 511 yards through the air, passing the previous record of 476 yards set by Dan Bartholomew in 2001. To put that in perspective, the senior missed the single-game offensive record by just 17 points with his passing attack alone.
Tying in Wibbeler's 85 yards rushing on the ground, his 596 total yards of offense put him in sole possession of the single-game mark in school history. But, even with five passing touchdowns and one score on the ground, it ultimately was not enough for the Crusaders to earn a win, as the team failed to convert a two-point try in the closing moments.
Following the game and being named to the D3Football.com Team of the Week, Wibbeler took to Twitter with a humble attitude and praise for those around him.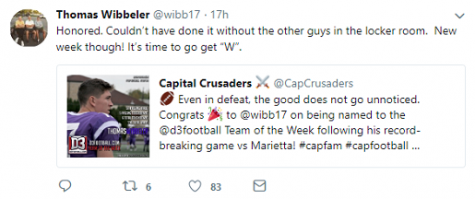 So far in 2018, Wibbeler has thrown for 712 and eight touchdowns without an interception, while also running for 164 yards and Saturday's score. Over the course of his career, the Zanesville native has thrown for over 5,000 yards, good enough for third all-time in Capital football's record books.
It's a small victory for Wibbeler to be recognized on a national level when his team has dropped its first two games of the season. But throughout his time as a Crusader, the 6-foot signal caller has shown an undying will to compete, even in defeat.
Looking ahead, Wibbeler and Capital will be taking on Heidelberg on Saturday, who picked apart the Crusaders 62-20 last year. Even with a solid body of work put forth by the the then-junior quarterback in both the rushing and passing attacks, there was little that could be done to change the outcome.
Although the team success has not always been at a high level the last few seasons, fans can still flock to see the aerial attack Wibbeler puts on display every Saturday. Heidelberg will bring forth another tough matchup for the Crusaders, especially considering the 2017 final score.
But, no matter the end result, Capital is guaranteed of one thing — the never say die attitude of its quarterback.