Deputy suffers broken ankle, suspect faces felonies after Walmart altercation, pursuit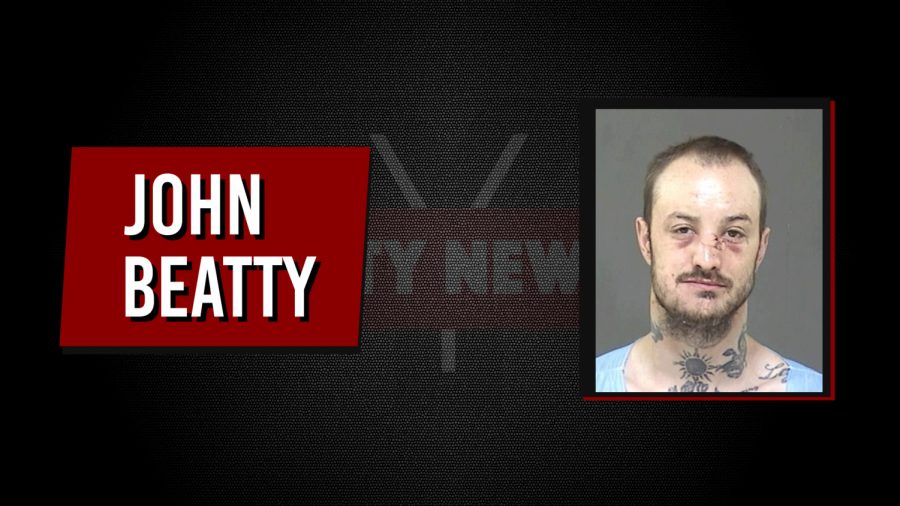 A Roseville man faces multiple felony charges after an altercation that began at Walmart in South Zanesville, leaving a deputy injured, and continued into a road pursuit, damaging a pair of cruisers.
Muskingum County Sheriff Matt Lutz said his deputies were called to Walmart on Maysville Pike around 3 a.m. Wednesday for a suspicious person fitting the description of a previous shoplifter at the store.
When deputies began interviewing the suspect, who was later identified as 31 year-old John Beatty, the man would not cooperate, Lutz said.
The suspect attempted to leave without complying to the orders of the deputies and without sharing his name or any other information with law enforcement, prompting a struggle.
As Deputies Wade Kanavel and Chevy Hood were attempting to arrest Beatty, the three fell to the ground, resulting in Hood breaking his ankle from the weight of the men.
As Kanavel rolled off Hood, Beatty fled out the door and into the parking lot.
Kanavel took off after the suspect, attempting to stop him with his Taser, but to no avail.
Beatty then made it to his truck and fled southwest on Maysville Pike, onto SR 93 and finally onto Crock Road where he turned onto a dead-end driveway.
Kanavel and Sgt. Ryan Williams, who had joined the pursuit, continued after Beatty when the suspect drove through yards and circled back around the officers.
However, Beatty became stuck on the incline of the driveway while trying to exit.
Lutz said Beatty then put his truck into reverse and rammed William's cruiser twice, the second impact sending Williams into Kanavel's vehicle.
At that point, the deputies exited their cars and successfully deployed a Taser through Beatty's side window, allowing the officers to take him into custody.
All the while, Walmart employees tended to the injured Hood until more deputies and medics could come to his aid.
"We really appreciate what they did down there, because he was left at the scene," said Lutz.
Hood was able to stay conscious through his injury and guide the Walmart employees to help prevent him from going into shock since his ankle was dislocated.
Lutz also commended Kanavel for continuing the pursuit on his own after Hood was injured.
"Anybody that thinks they're going to be able to take off and run to get out of something, that's not going to happen," said Lutz. "You will be held accountable for your actions if you're trying to go out and do stuff like this in Muskingum County."
Beatty is charged with three first-degree felonies of aggravated robbery, aggravated burglary and felonious assault, a third-degree felony of failure to comply with the order of a police officer, a fourth-degree felony of vandalism, and two fifth-degree felonies of vandalism and possession of criminal tools.
He is currently being held in the Muskingum County Jail.
Before his incarceration, Beatty was taken to Genesis Hospital to be treated for his injuries.
Kanavel was also evaluated and released for minor injuries.