Furry Friend Friday: Meet Grover
Zach Vinski - Sports Videographer
With eyes like his, it's easy to see why Grover is this week's Furry Friend Friday.
Grover, a 3-year-old pitbull mix, was taken in on May 7 to the Muskingum County Dog Warden and Adoption Center. After eluding staff for an extended period of time, he was finally brought in early May and has been at the Adoption Center ever since.
Owner of plenty of "tickle spots" which send his back leg into a frenzy, Grover is a curious and friendly dog. But don't let the playful amber eyes fool you, however. Grover is the kind of dog anyone can care for and enjoy relaxing afternoons with.
"What we have noticed about Grover is he is incredibly calm," Calihan said. "He does have energy … all the dogs do. But, he's very easy to walk. If you're older or just looking for a dog that's easy to walk, he's perfect."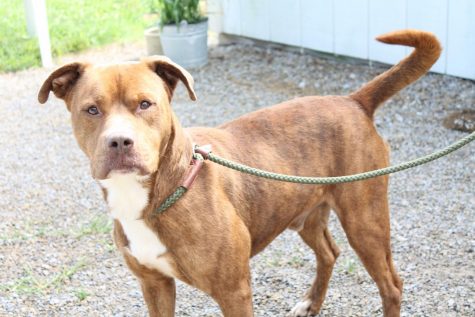 In addition to his easy-going nature during walks, Grover also gets along well with all other dogs at the center and with children, Calihan said.
Although he might make walks easy, there will still be no lack of fun. Grover loves to have his belly rubbed, as well as catch treats.
Plans have been made for his neutering on July 30, as well as shots.
Grover's profile, along with other dogs at the adoption center, can be viewed on the Volunteers of the Muskingum County Dog Warden and Adoption Center's Facebook Page.