All the benefits bees bring to the market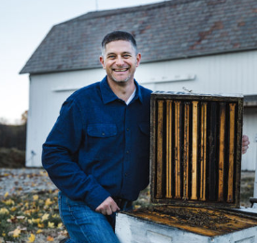 For quite some time I knew I wanted to run my own business. Who would have ever guessed through this entire process we would ultimately find ourselves keeping honey bees on a large scale? Tucked in the Northeastern corner of Licking county, Bee Barons LLC calls Hanover home. Our hundreds of colonies are spread throughout the rolling hills of Licking, Fairfield and Muskingum counties. My wife Cheryl and I are blessed with seven kids; three girls and four boys. Everyone participates and wears many hats within our business to keep up with all the different jobs. It has been an adventure with lots of hard work, but the satisfaction of supporting hobby beekeepers and educating the public about all things bees is very rewarding.
Honey bees are critical to our everyday life. They are the most important and abundant pollinator of almost all the fruits and vegetables we find in our markets and stores. Without honey bees, these staple foods we often take for granted would be far less available and extremely expensive.
By far, honey bees are most commonly associated with honey. What begins as nectar (roughly 80 percent water content) from flowers, is gathered by bees during their pollination process. The bees store nectar in their honey stomach and bring it back to the colony. It is passed from bee to bee (yes, bee spit), and then stored in wax comb. The bees will fan and dehumidify the nectar until it reaches 18 percent moisture content. At this point it becomes honey. During a bee's life span, it will collect enough nectar to produce about 1 teaspoon of honey. The real reason bees produce honey is for their own food source. Bees don't hibernate, but rather remain in the colony through winter. They eat the honey to produce energy so they can vibrate their wings to generate heat. In Ohio, our bees need about 80 to 100 pounds of honey in the colony to make it through winter. Even during the bitter cold days of an Ohio winter, deep inside the brood nest, the bees will maintain a balmy 91 degree temperature around the brood nest.
Raw honey is not pasteurized or blended with other syrups, and thus remains full of the natural antibodies, natural taste, nutrients and pollen that nature provides, offering a nutritious food source natural sweetener. Nectar begins in spring light in color, then as fall draws near the nectar sources become darker. This is what changes the color and taste of raw honey. Spring honey is very light in color and in flavor. Fall honey is very dark, and deep and rich in flavor. There are endless health benefits to consuming raw honey. Pollen allergies are very common, and local honey will help because the bees are working the very flowers that produce the pollen people are allergic to. Once you have tasted 100 percent raw honey, you will see no reason to return to processed honey that provides no benefits.
I invite you to come visit us at the fall, spring and summer markets to meet us, ask questions and taste the amazing work of these little creatures.
Bee Barons will be at the indoor spring farmers' market this Saturday, March 30, 11 a.m. to 2 p.m. with all things bee related: beeswax bars, hand poured candles, balms and, of course, local honey. Live music will be provided by homegrown bluegrass band, The Wayfarers, and Weasel Boy Brewing will have breakfast pizzas and their full craft beverage menu available as soon as the market opens.