Zanesville 'Noks' Newark, 32-27
Why not have Week 1 of the 2018 high school football season end in dramatic fashion?
In a rivalry game that lived up to the hype, the Zanesville Blue Devils edged out the Newark Wildcats 32-27 at White Field.
Thanks to the hard-nosed running of Jalen Haley and JC Curtis, the Blue Devils pulled off their 11th win in the last 12 games against rival Newark. Haley rushed the ball 20 times for 84 yards and a score, while Curtis racked up 78 yards and a score on 10 carries.
Zanesville coach Chad Grandstaff had some animated moments on the sideline, especially late in the game with his team clinging to a slim lead, but he was all smile afterwards. After all, his team just pulled off the 11th win in the last 12 outings against their rivals.
"I think part of what helps with (playing) Newark is I played at Zanesville and I played against Newark four years … I know what that rivalry is," he said. "And you know, every year, even though we've beat them 11 out of 12 years, I still get excited for that game. And we're never going to take them lightly."
The scoring started off with a 17-yard rumble into the end zone for Curtis. The play got off to a poor start when quarterback Ben Everson fumbled the low snap, but the slow-developing play ended up benefiting the Blue Devils as the red sea of the Wildcats defensive line parted and Zanesville took the lead.
Newark responded with a quick strike from quarterback Jake Sherman to wideout Louie Cook. The short pass over the middle ended up breaking big as Cook broke free for a 42-yard score, after Sherman threaded the needle over Zarek Morgan.
Newark scored two more times before the end of the first quarter, with the last coming on a bizarre turn of events for the Wildcats. Dustin Williams, who enjoyed a solid night, hammered his way to the 1-yard line before fumbling the ball forward into the end zone. Offensive lineman Johnathon Wieber wrestled the ball away from a Blue Devils defender, leading to a Newark lead before the halftime whistle.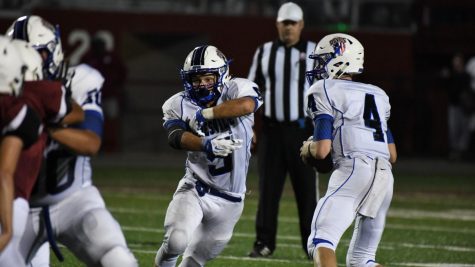 From there, Zanesville started to take control.
"At halftime, we didn't change a lot of things," Grandstaff said. "We just told a couple guys, 'You've gotta tighten down, we can't give up the big play.' We had a couple of those long drives in the first quarter where we ate up a lot of time and had 16, 17 play drives. I said, 'That's going to pay off in the fourth quarter boys. We just gotta be in the game to win it.'"
Zanesville stayed in the game when Everson connected on two long passes for a pair of scores, although much of the distance was covered by receivers Slade Norris and Casey Cassell. The pair of touchdowns put Zanesville up 32-21, with two failed two-point conversions.
Newark responded in a grand way, with a 76-yard touchdown return on the ensuing kickoff by Davian Williams for his second score of the night. The two-point try failed, but Newark got one more chance after a failed Zanesville drive and fourth-down conversion gave the Wildcats the ball with just over two minutes left.
Zanesville's defense held, with a strong pass rush coming on multiple plays. With fourth down looming, Sherman rolled to his right, looking for any open window, but a pass rush from Malakai Curry and Davonte Davis forced an errant pass, and sealed the game for the Blue Devils.
Newark is set to travel to Mt. Vernon for its next game, while Zanesville travels back to its home turf to square off with Granville and former Tri-Valley head coach Justin Buttermore.
Top performers – Offense
Ben Everson (Zanesville): 9-for-17, 203 yards, three touchdowns
Dustin Williams (Newark): 15 carries, 97 yards
Slade Norris (Zanesville): 3 receptions, 102 yards, one touchdown
Top performers – Defense
JC Curtis (Zanesville): 7.5 tackles, six solo, 1 TFL
Prophet Johnson (Newark): 6.5 tackles, five solo, 0.5 sacks, 1 TFL