176th Muskingum County Fair Royalty
Another yearly occurrence of the county fair may now be over, but four motivated, mentoring and highly-involved young adults will spend the next 51 weeks representing Muskingum County as fair royalty both locally and around the state.
For some like King Ethan Etters and Queen Eliza Jane Morrow, this triumph marks the end of their 4-H careers, for others like Prince Hayden Weck and Princess Braylie Burkey, their goal now become possibly taking Etters and Morrow's positions, respectively, at one of the following Muskingum County Fairs at some point in the near future.
Etters plans to pursue a career in law enforcement, like his father, and Morrow hopes to become a singer, traveling to Nashville for college after graduation. Morrow got the honor of singing the national anthem at multiple events during Fair Week.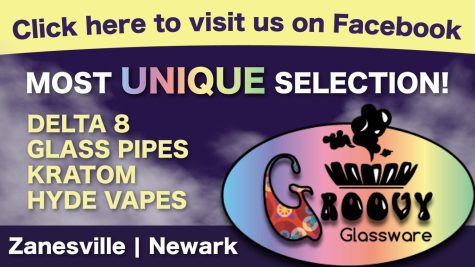 King Ethan Etters
Etters, like the royalty this year and in many years, has been attending the local fair for quite some time. His grandmother has a local farm that Etters described many fond memories at.
Unlike the other three, Etters has already graduated high school, but due to his birthday was allowed one last year to participate in the county fair.
Saying that he wanted to leave a lasting impression on the younger 4-H'ers, Etters described choosing to run for King of the Muskingum County Fair as an easy decision but one he took lots of pride in.
While in high school, Etters was active in football, wrestling and track, known to his peers as a role model and someone others could look up to. In his free time, he enjoys racing dirt bikes.
"It was so surprising," Etters said about finding out he was selected to be Fair King. "It's giving me a lot of opportunities and the possibility for so many new friendships." Like many of the royality, Etters said he plans on visiting other fairs during his tunure as King.
This year Etters took both a market hog and horse to the county fair.
"It means a lot to me to have the privilege to represent our community and be a role model for younger kids," Etters said excitedly.
Etters currently attends Zane State College and plans to follow in the footsteps of his father, Zanesville Police Sergeant Alan Etters, and pursue a career in law enforcement, one day hopefully alongside his dad, who he described as his hero.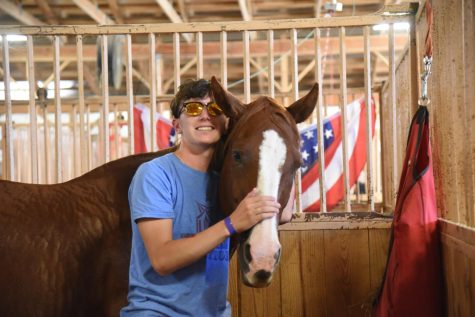 Queen Eliza Jane Morrow
Like Etters, Morrow said she chose to run for Fair Queen because she wanted to make a positive impact on the younger students while also representing and making her community proud.
A photo of Morrow, showing genuine surprise as she finds out she was selected to become Queen and not a runner-up, went viral locally on Facebook and was the most viewed piece of digital content (at least for Facebook and Instagram) in Muskingum County all Fair Week.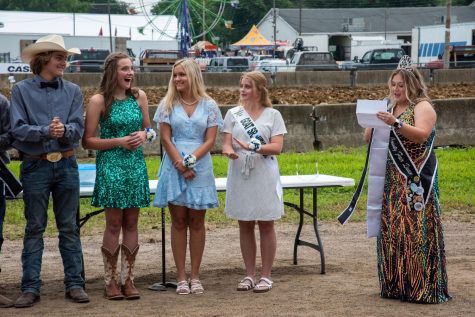 "I wanted this so bad," Morrow said with a smile. "I wanted to be a role model to all the little kids. I was stunned when I found out, it was all so surreal."
Morrow is an incoming Junior at John Glenn High School and is a member of the Highland Go-Getters. This year she took a market hog and a breeding heifer.
Competing in the Ohio State Fair earlier this summer, Morrow took a still project, clothing, where she came in the top 20% overall, achieving a consumer clothing award.
She, like both Prince Weck and Princess Burkey, is a member of the Muskingum County Junior Leaders, where she serves as chaplain. At school, she takes part in show choir and is active in other musical-related activities.
During Fair Week, Morrow was one of the most seen faces on the Fairgrounds, attending nearly every event she could while also taking part in the showings for which she brought animals.
Multiple nights Morrow had the opportunity to sing the national anthem to thousands of attendees. After high school, Morrow wants to attend Belmont University in Nashville to pursue a music career.
As for the next year, Morrow wants to visit as many other county fairs as possible following in the footsteps of last year's Fair King Bradley Sheppard.
"It's not a competition, but it is," Morrow said with a smile. "I just want to make Muskingum County proud."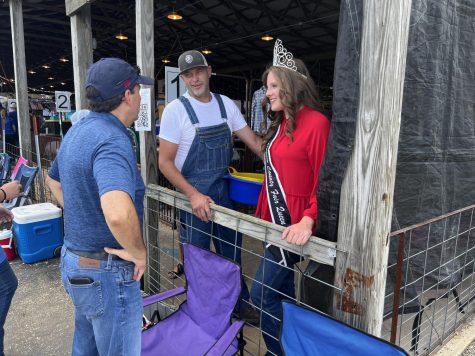 Prince Hayden Weck and Princess Braylie Burkey
Weck is an incoming high school sophomore and Burkey is an incoming high school freshman, both at Tri-Valley.
They each are members of Adamsville Renegades 4-H Club and actively involved in Muskingum County Junior Leaders. Each has been a familiar face around the fairgrounds for many years.
Weck took a pack goat and a pygmy goat to the county fair this year. Burkey took a pygmy goat, a market rabbit and a breading rabbit.
As part of their duties, they each give visiting royalty tours of the Muskingum County Fairgrounds.
During Fair Week they both assisted Queen Morrow with events and judging, such as the rabbit dress-up contest.
Both said they plan to visit neighboring county fairs and look forward to competing at being the fair king and queen, respectively, in a future year.