Man who nearly killed local police officer partially acquitted by jury, headed to prison
A convicted felon who nearly killed a Genesis Police Officer late last year was found not guilty of attempted aggravated murder after the recent conclusion of a three-day trial.
Having potentially faced decades in prison, likely the remainder of his life behind bars, the assailant now faces significantly less time after the presiding judge dismissed a pair of charges and the jury only convicted him of one of the two remaining crimes, felonious assault on a peace officer, a first-degree felony.
The attack left the officer unconscious, stripped of his firearm and with multiple lasting injuries, some of which are likely to remain for the rest of his life. Upon hearing the verdict, the officer told reporters he was disappointed but that he will now put his full energy into healing.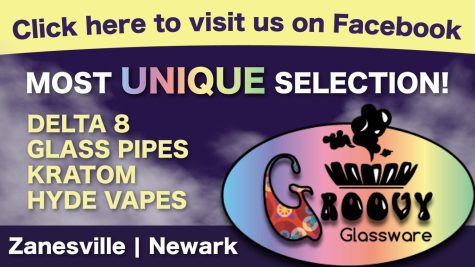 Getting to the Hospital
Bernard Hayes, the defendant, is a 47-year-old Muskingum County resident. A Crooksville High School graduate and former honorably discharged member of the United States Military.
According to his testimony at trial, Hayes has been a diabetic for the past 27 years. Working as an electrician for a small local family-owned business, his employer doesn't offer health insurance benefits.
Due to his condition, Hayes requires a special insulin shot each week that costs $700, an expense he said he could not afford. In an attempt to regulate his levels, a local doctor helped him get samples of the medication as well as resorting to rationing insulin to keep his disease under control as best as he could. According to him, taking the normal insulin and irregular samples over a prolonged period has caused him multiple adverse side effects such as failing vision, loss of certain body functions and mood swings.
Hayes told the jury that at around 9 p.m. on Saturday, December 4, 2021, he took a shot of insulin but that his sugar levels weren't settling out to where they needed to be, adding that he felt like he was dying.
He attempted to consume a peanut butter sandwich but it allegedly didn't help him at all either. Reportedly, his roommate came home, found him in an adverse state and called a squad.
While testimony was sparse on the topic, it appears that responding medics may have observed some sort of situation with his insulin equipment and supplies at his residence that led them to believe he may have purposely overdosed on the medication, possibly as a means to commit suicide.
He was then transported from South Zanesville to Genesis Hospital, roughly an eight-minute ride by squad. According to Hayes, he doesn't remember the ride or most of his time at the hospital.
At Genesis Hospital
According to testimony from multiple individuals, Hayes arrived at the hospital sometime around midnight or the very early hours of Sunday, December 5. He was given an injection of D50 to help bring his insulin levels to where they needed to be. For roughly the next few hours, there weren't any major issues.
Sometime at around 3 a.m., a Genesis Doctor issued a writ to Hayes, which legally required him to stay at the hospital. From testimony, it appears that the writ was signed based upon the concerns of the original first responders who transported Hayes, though the Doctor did add that he also had concerns. The original responders did not testify at trial.
According to the Doctor, when he informed Hayes about the writ, he became angry and a Genesis Police Officer was called to the room. At that time, Hayes was connected to at least two different machines, a monitor and a medication drip.
The arriving officer told the court that when he came to the room, Hayes attempted to get up out of the hospital bed and the officer put his hands on Hayes' chest and told him to lay back down.
"He was very angry, cursing at everyone," the officer recalled.
While the next exact moments aren't perfectly clear due to differing witness testimony, the consensus is that Hayes managed to get out of the bed and a confrontation between him and the officer occurred. Hayes alleged that he had a charley horse and was simply just trying to get out of bed to stretch, but according to multiple other witnesses, he didn't verbally tell anyone else that. Still hooked up to the equipment, a nurse had to grab the medical devices to prevent them from falling over, according to testimony.
The officer states that Hayes grabbed onto him and in response, he grabbed onto Hayes. Their exact positions are unknown due to conflicting testimony, but it appears at the beginning the hospital bed separated the two. Verbal commands were given to Hayes to calm down and stop his assault.
In an attempt to get himself free and regain control of the situation while waiting for backup, the officer said he attempted to use his elbow to get Hayes off of him, it allegedly didn't even make him flinch. Hayes is noticeably much larger than the officer.
Moments later, thinking that another officer had just arrived to provide support, the original officer turns to request help. That is the last thing he remembers, Hayes is alleged to have struck the officer. Hayes' argument is that he simply let go and the officer fell striking his head.
Once on the ground, Hayes got on top of the officer and placed his hands around the officer's neck. One nurse would attest to trying to pull his fingers off, another, while pregnant, testified to attempting to secure his arms. The second spoke about her fear at the time that Hayes would decide to attack her and her unborn child as he viciously assaulted the unconscious officer.
Around that time the second officer arrived, he also verified that Hayes was on top of the original responding officer and attempted to render aid.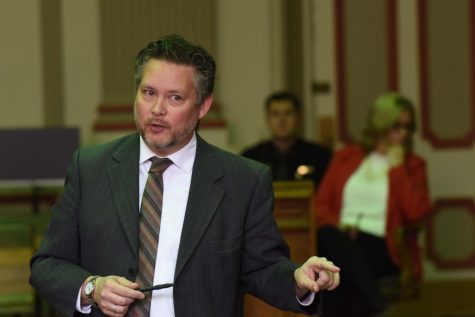 Officers Gun isn't in its Holster
Soon thereafter the pregnant nurse screams, "he has his gun." That causes the already bad situation to get much worse. The second officer recalls screaming at Hayes to drop the gun as staff members and he tries to get Hayes off the unconscious officer and now secure the lose weapon.
While none of the witnesses observed Hayes take the pistol out of the unconscious officer's holster, many believe it was the only way it could have come out.
The first officer would put on his duty belt during testimony and show the jury the three-point system needed to remove the gun from its holster. Without training, law enforcement officers and prosecutors would testify, it would be challenging to remove, but for a military veteran, like Hayes, it may only take a second. Hayes and his defense attorney would argue that it merely fell out when the officer went to the ground but declined to demonstrate a way in which such an action could have occurred.
Multiple witnesses observed the gun close to Hayes' hand, but none were able to positively say they observed him touch the gun as they were too occupied with trying to render aid to the downed officer.
The Doctor testified that he was able to secure the gun as the others attempted to get Hayes off the officer. He kicked the gun into the hallway ensuring Hayes couldn't get ahold of it. He then went to the hallway and unloaded the firearm. The gun was then further secured.
Eventually, they were able to get Hayes off of the downed officer and the confrontation turned to more of a verbal altercation as they awaited backup from Zanesville Police.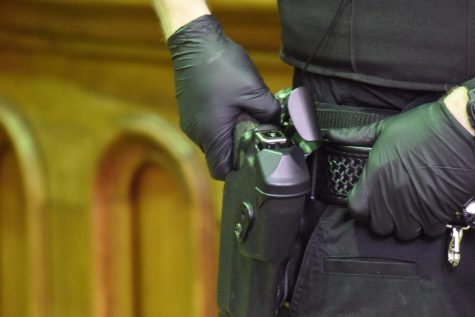 Downed Officer is Dragged to Safety
Meanwhile, the downed officer is dragged down the hallway away from the situation. Other witnesses would express that at the time they were concerned that Hayes would again try to assault the still-unconscious officer.
Numerous medical personnel rushed to assist. All would attest to the medical emergency being a Level 1 Trauma, which is the most severe and signifies the potential for death of the patient.
An Advanced Trauma Life Support Team was put together to attempt to save the officer's life, the Genesis Doctor would recall.
"A Trauma 1 is so critical and so severe that we assume it could be a fatal incident," the Doctor testified giving an insight into the seriousness of the situation.
The officer would tell the jury that he sustained damage to his brain that nearly required emergency surgery, multiple concussions, brain bleeds and a permanent loss of smell.
Only in the middle of February was he able to return to work on light duty. He has had to regularly attend speech therapy due to his traumatic brain injury and struggles with the ability to recall simple words still to the time of the trial.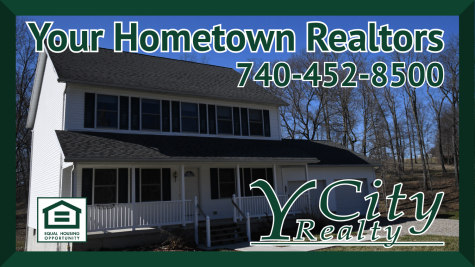 Hayes is Tazed and Arrested
After the altercation turned more verbal than physical, Hayes could be seen on surveillance footage walking around the hallway of the hospital.
Other arriving Genesis Hospital Police Officers rendezvoused with an arriving Zanesville Police Officer and the trio made their way through the hospital's waiting area to locate and physically secure Hayes who was making his way and nearing the exit.
They attempted to restrain and handcuff Hayes, but the officers had difficulty with the much larger man.
Eventually, it was determined that a less-than-lethal option would need to be deployed and the Zanesville Officer fired a Tazer round at Hayes. It didn't successfully hit him and the officer then used the device in combat mode pushing it against Hayes to finally subdue him.
He was then treated by medical staff, some of the same ones who had just witnessed his assault on the officer, and would later be taken to jail.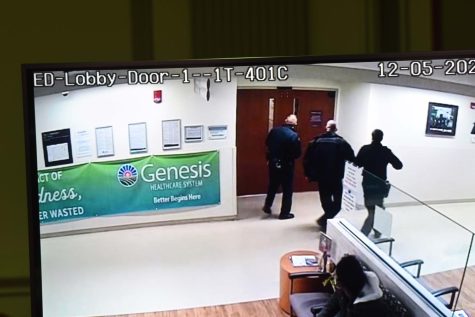 A Judge Intervenes
A typical trial goes as followed: the jury is selected, the prosecutor gives opening statements, the defense gives opening statements, the prosecutor calls his or her witnesses, the defense calls their witnesses and sometimes the defendant takes the stand, the prosecutor calls rebuttal witnesses and then both give closing statements before the jury deliberates on a verdict.
Once the prosecution 'rest' and before the defense calls their witnesses, there is the opportunity to request a Rule 29, a motion for judgment of acquittal. Essentially, it's an opportunity for the defense to argue to the judge that there is a lack of evidence on the charges against their client and the judge has the ability to dismiss either some or all of the charges. It is always done in the absence of the jury. As a checks-and-balance, the judge always has the ability, for cause, to dismiss criminal charges.
The defense team, headed by Attorney Joe Edwards, argued that since there was a lack of evidence that Hayes took the officer's gun that the related charges should be dismissed.
Assistant Muskingum County Prosecutor Michael Hughes argued that through the officer's testimony and demonstration it was proven that the gun couldn't have left its holster without being purposely taken out.
While he didn't justify or explain his decision, and isn't required to rightfully by law, Muskingum County Judge Kelly Cottrill sided with Edwards and dismissed the related charges. That included the firearm specification on the attempted aggravated murder charge, for having a weapon while trying to kill the officer, the aggravated robbery charge, for taking the officer's gun, and the having a weapon under disability charge, from being a felon and not permitted to possess a firearm.
Edwards further asked that the two remaining charges, attempted aggravated murder and felonious assault on a peace officer, both first-degree felonies, be dismissed but Cottrill denied that request.
It remains forever unclear if the jury would have convicted Hayes on the dismissed charges. Should he had been found guilty, it's also unknown if the judge would or wouldn't have merged the criminal counts at sentencing. Before the dismissal, Hayes was facing a pre-merger theoretical maximum of up to 44.5 years in prison, though it's likely the charges may have been merged, however, that would be left to argument at sentencing and current case law.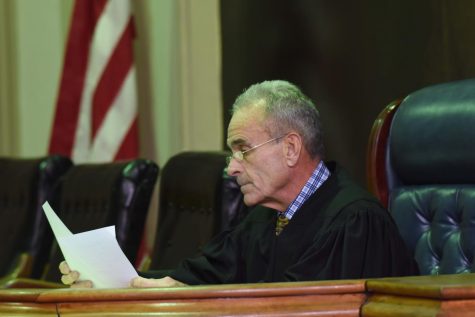 A Rebuttal Witness's Testimony
It appeared that hearing of Hayes' military background, his PTSD from service including his brief discussion on 'doing things he wasn't proud of for this country' and his inability to afford his expensive medication attracted the sympathy of at least a few jurors.
The very last witness of the trial may have derailed the confidence some jurors had. A former girlfriend spoke about a time Hayes pulled her by her hair and choked her out just as he did to the Genesis Police Officer. On the stand, Hayes denied having ever strangled or choked anyone else before the incident with the law enforcement officer.
"He said he wanted to watch the life drain out of my eyes," the former partner told those in the courtroom as she held back tears recalling that night. Both his and her kids were home when the assault occurred.
For that, he was charged with felony domestic violence, meaning that he already had at least one prior incident of abuse, and felony abduction. Hayes was convicted of the abduction charge, sentenced to prison and ordered to pay restitution in that case.
During the trial, it was also referenced but not in detail, that Hayes was actively under indictment in Perry County for felony domestic violence.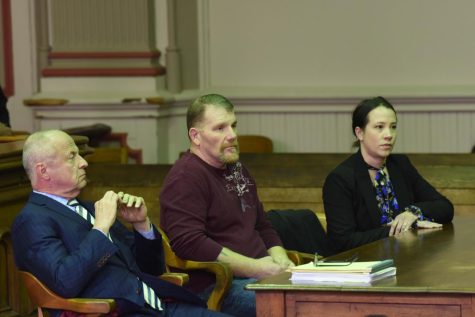 A Verdict is Returned
After nearly three full days of testimony, the twelve jurors made up of eight women and four men exited the courtroom and began deliberating.
It would take them just over three hours to return with a verdict. A young woman, selected as the foreperson, held the black binder containing their signatures affixed two sheets of paper representing each remaining criminal charge.
Cottrill looked at the sheets before silently handing them over to Clerk of Courts Wendy Sowers to read out loud to the courtroom.
Hayes was found not guilty of attempted aggravated murder, but guilty of felonious assault of a peace officer. Cottrill ordered he be held without bond until sentencing.
He now faces between three and eleven years in prison. Any time imposed by the judge will be mandatory time, meaning that Hayes will not be eligible for any type of early release. A sentencing date is currently set for Monday, April 11.
Edwards, Hayes' defense attorney, said that while he was pleased that two of the four original charges were dropped by Cottrill and that the jury found his client not guilty of a third, but that he was disappointed with the one guilty verdict.
"I really believe that there was not enough evidence to convict him (Hayes) of felonious assault," said Edwards. "That's my opinion, I think the verdict should have been not guilty. But again by me saying that, I'm not saying the jurors did a bad job, I think the jurors were attentive and I believe in the system, so I'm not being critical of the jury, I'm just kind of disappointed. I think we should have won the case. There is no doubt in my mind that the officer suffered serious physical harm, there is no doubt he had a confrontation with my client, frankly, I just don't believe they (the prosecutors) proved beyond a reasonable doubt how the injury occurred."
Edwards elaborated by saying that due to the many conflicting witness statements he doesn't understand how a jury convicted him without knowing how the injury occurred but made clear he respected the system and was very appreciative of the jury for their service.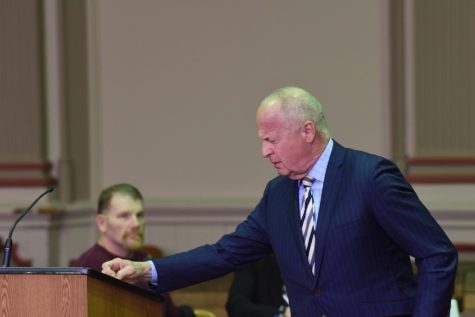 Ultimately, Edwards said the bigger lasting issue is about the way in which writs can be issued by a doctor, stripping someone of their freedom to leave the hospital without more concrete standards.
"The doctor having spent maybe not too much time with him and hearing this second, third-hand information says 'well I'm going to keep you against your will for 72 hours,'" Edwards added. "It was almost like this doctor said that in this very cavalier manner like 'oh ya I made this decision and he was just supposed to do as he was told.' I think we sometimes lose sight they aren't saying you are going to stay at some great hotel in Cancun, Mexico on the beach for three days, you are going to be like confined in a bed for three days and you're dealing with someone who has been to prison before, you're dealing with someone who doesn't have a lot of money and I'm sure partly in Bernie's (Hayes) mind it was like 'sure they say three days but how do I not know it's not going to be five days or three weeks.'"
Regardless, Edwards says there is no doubt that Hayes caused a lot of his own problems that night and he should have just listened to the doctor. Further, Edwards added that even if you disagree with what the police are telling you, it doesn't give you a right to fight them at the scene, individuals should instead opt to get a lawyer and handle the matter in the courtroom.
Muskingum County Prosecutor Ron Welch said in a written statement that first and foremost he is thankful that while an officer was seriously injured, no one died because of the defendant's actions.
"The officers and medical staff involved should be commended," said Welch. "Their actions protected countless individuals inside the hospital and in the community. The testimony during this trial established that the defendant has a history of violent and uncontrollable outbursts."
Lastly, Welch wrote that their goal at sentencing will be to make certain everyone in the community is protected from Hayes for as long as possible under the law.