Large crowd attends school board meeting
Nearly one hundred individuals filled the library at John Glenn High School Thursday night to display their support to school board members for football games to remain at the newly constructed field adjacent to the building.
In April, the board signed a 20-year contract with Muskingum University to continue to utilize its turf field once the Henry D. Bullock Health and Wellness Complex is complete in 2022. The contract also allows the school to host track meets and practices at the college since the district does not have a track of its own.
In total, five student leaders spoke before the board and crowd, giving passionate speeches about their wishes for games to remain on the East Muskingum Campus and not down the hill at the college, citing the fact that they feel each game at Muskingum is an away game to them.
Board President Matt Abbott said they will take the student's concerns and opinions under advisement, but didn't go as far as to make any assurances that the contract would be broken. The agreement requires a six-month notice of separation should the board ultimately decide to host football games on their own field.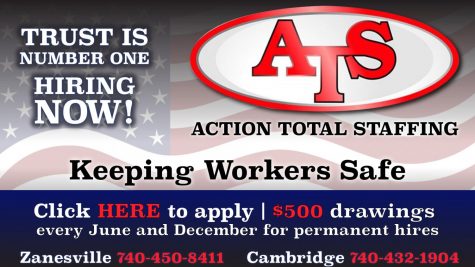 Gunner Fox, a junior student-athlete and football player said he first heard from his mother, Beth Fox, a Muskingum University Instructor of Health Science, that John Glenn home football games would return to the college in 2022.
Due to the construction of the university's new health and wellness complex, Muskingum was unable to temporarily accommodate East Muskingum by hosting its home football games. For the 2020 season, every game was hosted at another rival school. Muskingum, with the assistance of Zanesville City Schools, hosted their home football games at the John D. Sulsberger Memorial Stadium.
What began with a grass field slowly over the past two years grew into much more. A turf field was laid, lighting was added, a press box was installed and seating, both permanent and removable, was put into place. A $1.3 million dollar project in total allowed the district to host games at its campus this season while also providing a great venue for practices and other sporting events.
A few posts on social media under the hashtag #fridaynightsOURlights exploded far beyond just students and their parents. Community members, some of whom rarely attended games in years past, spoke up about how this year was different, how they attended the first truly home football games in living memory.
Shirts were made and the rallying of supporters grew and grew. What Fox had started struck a cord within the close-knit school community.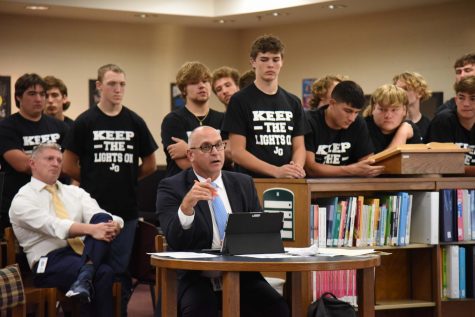 When Thursday's board meeting began, the library was nearly full to capacity. Many high school-aged students wore black shirts with white lettering that read 'Keep the Light On.' Younger students sported their jerseys while parents and community members stood behind showing their support.
Fox would be the first to speak before the board. Beginning by thanking the five elected officials and school administration for their support of the sports programs and recently constructed football field, Fox stood unwavering and spoke passionately as he read, with little reference, his prepared speech.
"Please understand that our efforts of this initiative are taken with the utmost respect for our administration, the history of our school district and the traditions of our programs," Fox began.
The student-athlete highlight how he and his fellow players felt 'pure joy and honor' playing on their school campus, directly next to the building where they attend classes.
Fox had prepared a unity statement to put into words not just how the players felt, but cheerleaders, band members and their fellow students. With ease, he secured over 320 signatures in support, which requested the board keep future games at their field and not the one under construction at Muskingum.
"As you can see from the number of signatures, this is a very important issue to all of us," said Fox. "This year, you as a school board, have created an environment on our campus, at our home games that is second to none for small-town football."
Citing the pride of the community as a whole and how they as students felt overwhelming towards having games on their own district-owned field, Fox politely asked the board to not take away what they had already provided.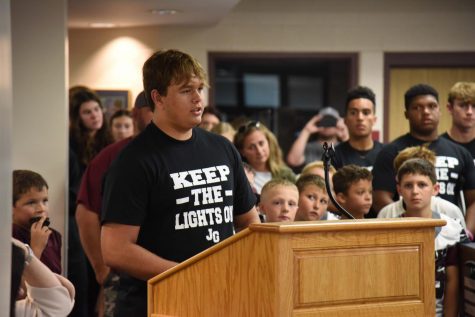 Last year, during the 2020 football season, due to the press box not being completed, no home games were held at the John Glenn field. The homecoming game was hosted at Tri-Valley and senior night at another stadium. While each hosting school did their best to accommodate, as Fox would explain, it just wasn't the same as it was this year.
The young man also wanted to make sure it was known that they had no ill-will towards Muskingum University, that they were indeed very grateful for the years of the college letting them host their home games on its field.
"It's a wonderful facility, Fox said about the soon-to-be-complete health and wellness complex as well as football field and track. "But it's on a field that is not our own, not built for us."
One aspect that Fox would touch on during his speech that nearly every other following student would also mention is the field's closeness to the bleachers, cheerleaders and band that in their close proximity create a bond that in previous generations, they would argue, had never been felt as strongly before.
There is room for young kids to run around, an aspect that they will lose as the hill at Muskingum is nearly taken up by the new complex, Fox added. Not separated by a track, those in the student section feel more connected to the game.
"Busing down to a home game just puts this feeling in you that isn't right, it feels like it's not your own," Fox said near the end of his remarks. Citing the years in which Bishop Rosecrans had to host their home football games at Zanesville, Fox highlighted the joy their students felt when games returned to their campus.
In his last remarks, Fox invited members of the board and administration to the last home game of the season Friday evening at 7 p.m. against Philo. The Muskies would win that senior night game.
After a long and loud series of clapping by those in attendance, Abbott said that he admired Fox's courage and effort for what he had done thus far, following up that remark by saying that he had represented the district well.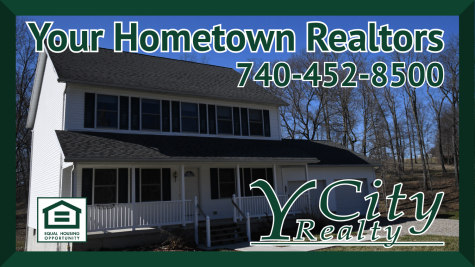 The night's second student speaker was Joey Barnhouse, a senior and captain of the marching band.
"I've been on both fields," Barnhouse began. "While I'm personally neutral, most overwhelming want us to stay here."
Barnhouse added additional perspective to the consensus many students felt about busing to a home game, having to load up their band equipment and be taken to Muskingum's turf, not simply walk out the side doors of the high school. That trip meant to them a very real sense of knowing that they were going to a field that was built for college-level events and not small-town high school ones.
"It's been absolutely phenomenal this year," Barnhouse said speaking about the camaraderie between the football players, the cheerleaders, the band and the student section.
Citing a song the band often plays after the end of the third quarter, Barnhouse smiled as he spoke about how not just the student section, but the whole crowd cheers for them to a level of which, he says, doesn't happen at the college.
"It couldn't happen at Muskingum," Barnhouse quickly added, noting how everyone would be too far split up and separated at the university's field.
Another senior student, Colin Campbell, said those fellow students who will graduate in May of 2022 take pride in knowing that they were the first senior class to play Friday Night Lights under their own football field.
"The home football games have been well attended by staff, students, parents and a lot of community members," said Campbell. "People love being able to come to our school campus and to be able to watch the games. You can't help but get excited when you're watching our games because we are so close to the field, our stadium has the closest seating of any stadium in the Muskingum Valley League (MVL) and surrounding area."
The impassioned student went on to say that the 10 feet of separation from the bleachers and the field made him feel like he was actually part of the game.
"It allows fans to play an important role, we get loud, we get excited and we bring some encouragement and inspiration to our players," said Campbell. "I'm sure if you ask any of our athletes they will tell you that our fans help motivate them to play hard and home-field advantage is important because playing down at Muskingum isn't really our home field. Being able to play games at our turf with the huge JG logo in the middle is vital, it's just not the same playing on a field that is truly not ours.
Citing the $1.3 million dollar investment by the district, Campbell politely asked why they wouldn't take advantage of it instead of paying to play somewhere else. "Please consider allowing a new tradition to take place on our turf field, please don't take our home-field advantage away, it can make all the difference for our student-athletes, Campbell finished as the clapping overtook the ambient noise of the room.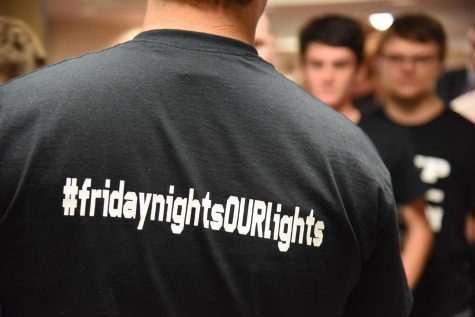 Next up was Katelyn Lemley, a varsity cheerleader. She smiled as she looked around the room, making eye contact with each board member as she spoke of the 'great honor' it was to be able to cheer for the Muskies on their own football field.
"The community involvement and the crowd engagement has doubled," Lemley cited. "It gives a school spirit that we've never had in the past. It's sad to think that future generations might not have these memories on that field."
A week prior, Lemley added, her squad helped host a Pee Wee Mini Muskie cheer clinic.
"It breaks my heart knowing that these children will not get to grow up cheering at their high school football field, Lemley said with such passion. "To know that they will not be able to have that influence of this positive environment we have created at this field is honestly very disappointing."
Near the end of her short speech, the high school cheerleader, like her peers before her, spoke and referenced the unique and newfound unity between all the students and their community thanks to the relocation of home games.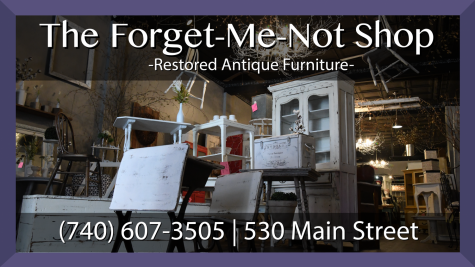 The last student to speak was Noah Larrick, another member of the football team. He recalled how he first felt when he heard that a football field would be built next to the high school.
"I was ecstatic," Larrick said gleaming with a big smile.
At first, he said, he envisioned a large facility with a turf and a track, surrounded by large seating on both sides, a few concession stands and maybe even a multi-purpose building.
Citing his and others' gratefulness at what has been constructed thus far, Larrick added to his previous remarks by saying how they've made everything come together, making the field a true 'home' for them all.
The student-athlete would also mention the resourcefulness and fundraising ability of their booster organization, having raised nearly $50,000 with bingo machines this year alone.
"This is for those who come after us," Larrick said of the student's efforts as he wrapped up his speech and folded his notes to a loud round of applause not just for him but for all five speakers.
Abbott, a graduate of the district himself, gave a short remark after the conclusion of the speeches.
"Individual board members are not the board of education, we are a group of five individuals, so individual opinions at this point, you know don't really matter, opinions of this group do," said Abbott, the board president. "We will definitely take your words into consideration, your passion into consideration, as we move forward, so thank you all."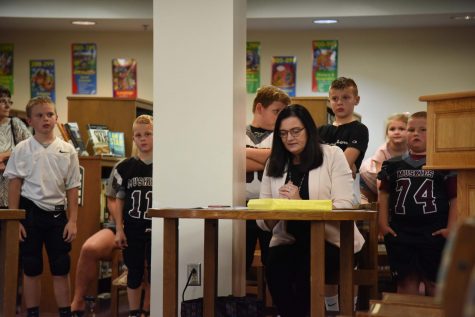 Abbott, who made himself available to reporters after a long executive session and everyone had left, said he thought the skilled language and actions of the five speakers spoke to the caliber of students they have in the district.
"For those students to get up and address the board in the manner they did," said Abbott. "We admire those kinds of students as a school board."
He added that they will take the student's feedback and information into consideration as they continue to discuss the situation moving forward.
That situation, as Abbott referred to it, is still quite complex. Board members are elected by the community at large and in part are responsible for carrying out their wishes. Both Abbott and board member Shala Zemba ran unopposed this year for re-election.
In Spring 2017, a levy was placed by the board on the ballot. It would have provided the funds for a district-owned football field, track and auditorium. Set at 3.2 mils, the cost would have been roughly $115 per year for every $100,000 of a residential home's value.
It failed, 1,067 voting in favor to 2,366 opposed. Only a 41 percent turnout of the over 8,000 registered voters, still far less than the total population of the district.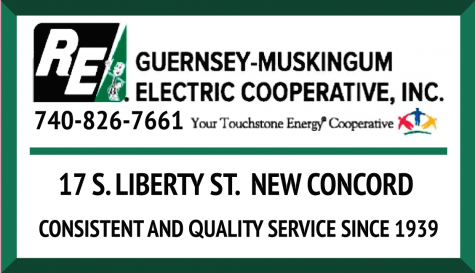 Further complicating the matter, this April the school board signed a 20-year contract with Muskingum University. At $12,000 a year, it is, by many, considered a steal. A common tactic many colleges use to lore prospective future students to their campuses. The university has many Muskingum County high school grads in its classes, including East Muskingum which sends the most students each year.
According to Abbott, that contract ensures the district can have five football games a year, seven track meets and that both middle and high school students can have an adequate number of practices.
It can be nullified with a six-month notice, Abbott said, and there would be no financial penalty. All sides agree some form of contract must remain as the district doesn't have its own track, doesn't have anywhere to build one and doesn't have the dedicated funds to construct it anyways. The district has historically sent a sizable number of track and field athletes to regional and state competitions.
The $1.3 million dollar complex built next to the high school, Superindentent David Adams explained, wasn't purely built to deal with the temporary loss of a field at Muskingum, it was primarily designed as a safe place on campus for students to practice. It can seat about 1,600 individuals, of which half of that capacity is through either rented or pulled bleachers from other district facilities.
That three-pronged plan, as Abbott detailed, first included installing a turf, lighting, seating and a press box. The third part will include the installation of a concession facility and restrooms.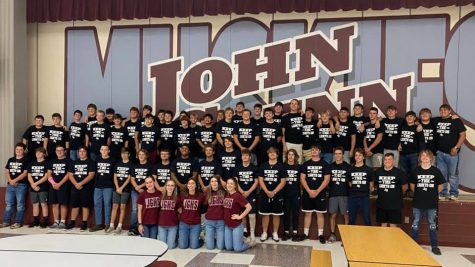 Abbott said it's hard for him to truly understand what the students feel, as he isn't out 'running on the field.'
"I think we have to take our student-athletes word for it," said Abbott. "As someone who has played here and has coached here, from my personal perspective Muskingum was our home field. So, that has changed, you know I guess at the time the generations prior to these young men haven't had the ability to compare it to something else. We have to honor what they are telling us."
The board president also highlighted that they as representatives of the district have to take into account the failed levy, but also that they don't have concrete data on why individuals voted no. Was it the total cost, the large number of projects attached or simple voter apathy?
Abbott, whose day job is as Executive Director for the Zanesville-Muskingum County Port Authority, also highlighted a focus many students have after their high school days end. What happens next.
"Providing our students a learning environment that is sufficient to prepare them for 21st Century skills and life beyond this institution is also very important," Abbott said.
An exact date for future discussion or if the board would be re-evaluating their decision to partner with the college was not given. Currently, unless things change, next year football players will be walking out to Muskingum University's field for their home games.