Imlay Florist celebrates 180 years as a family owned business in local community
The nation's oldest continuously family-owned and operated florist is celebrating its eighteenth decade serving Muskingum County customers.
Imlay Florist, located in downtown Zanesville, will have its busiest day of the year Sunday, for Valentine's Day, as fifth-generation owner Dave Imlay, his wife, Katie Imlay and dedicated staff work to fulfill a large number of bouquets and arrangements.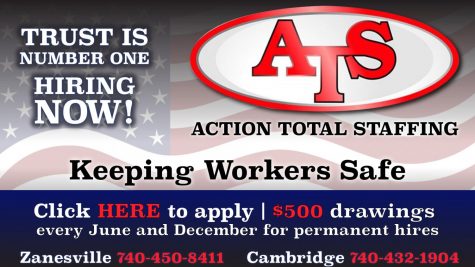 Originally started as a nursery in New Concord by William Smith Imlay in 1841, the New Jersey native slowly grew his business before relocating to Putnam Avenue and opening a greenhouse.
William's son, John Dillion Imlay, would get cut flowers out of his father's greenhouse and peddle them downtown on his bicycle to sell.
Eventually, the young entrepreneur was able to grow the business enough that he was able to rent a small space out of a drug store located at the corner of Market Street and North 5th Street where the Pollock Apartments stand today.
John was then able to save up the money needed to purchase a one-room building along the same block of 5th Street to house his expanding business.
In 1906, the structure was razed and replaced with the current three-story building that the flower shop still operates out of today.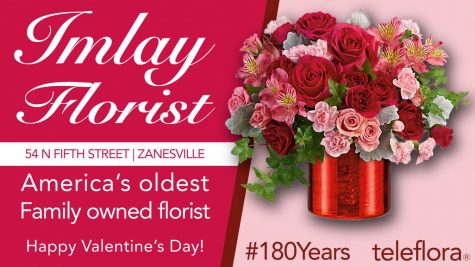 According to Katie, the Imlay family takes great pride in having served the community for so many generations.
Her husband, Dave, worked alongside his parents from a very early age learning the interworkings of the business and except for a short stint away employed as a wholesaler for the industry, has worked at the flower shop his entire life.
Katie added that Dave often tells fond memories of his childhood when he would go to the greenhouses, which were located where the South Zanesville Walmart is now, and spend time with family members.
"This is not just his livelihood, this has been his life," Katie explained. "I think it carries a lot of weight with him, he is very proud of his lineage, very proud of his hard work, grit and dedication to the trade, but also to the community."
For many years, Dave worked alongside his parents in operating the family business before their eventually late retirement.
For the Imlay's and their employees, their business is unique in that they get to be involved in a wide range of emotional moments for their customers, from being involved in their weddings to comforting them in their bereavements to helping them celebrate a special occasion.
"For that, we are most thankful," said Katie. "Everybody today as consumers have choices and when they select us to be a part in those moments, that's very special to us."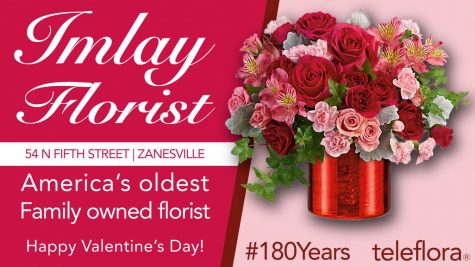 Katie, like many business owners, spoke about the time and dedication that running a small business requires but also how their employees are the backbone of the operation.
"We couldn't do it without them," said Katie. "They are just as dedicated to the family name and for that, we couldn't be more thankful."
Customers are often greeted by Dave himself when they walk in the front door or call to place an order, and on occasion, he will even pick up an order and deliver it himself.
For Dave, pride is at the heart of everything he does, not just because it's the generational family business but because he knows that his flowers and arrangements carry a sentimental aspect to the recipient as well.
To order a bouquet for Valentine's Day or any special occasion call (740) 452-5496 or visit www.imlayflorists.com
Imlay Florist is located at 54 North Fifth Street in Zanesville.