Senior Golden Retriever spreads joy to assisted living residents at Helen Purcell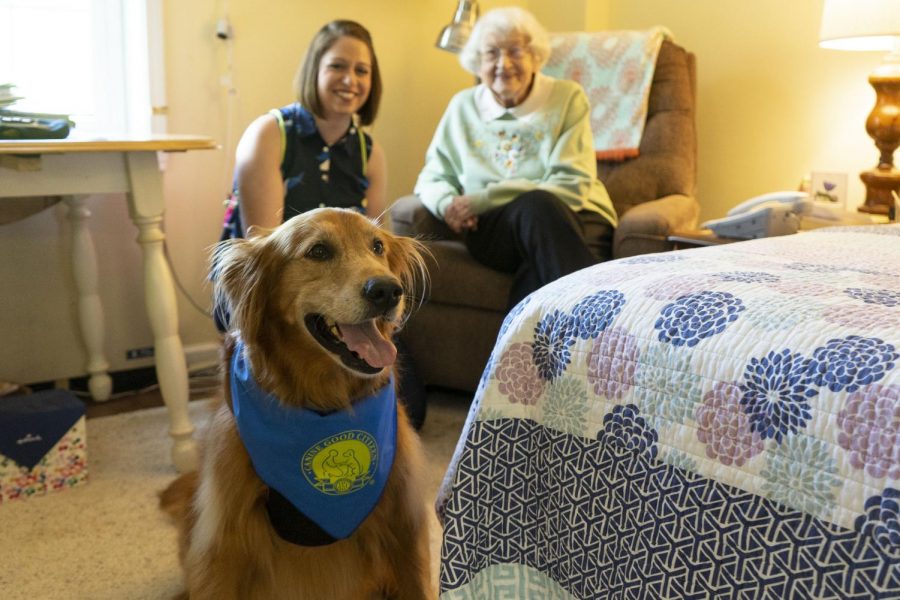 The assisted living residents of Helen Purcell enjoy jam-packed schedules with opportunities to participate in events and activities everyday, but one of the most anticipated programs each month is a visit from Maggie the Therapy Dog.
"The residents love her, and they can't wait," said Activities Associate Melinda Lubas. "I think it makes their day."
Inside Administrative Assistant Cindy Marshall's office are photos of her daughter Lisa's beloved Golden Retriever.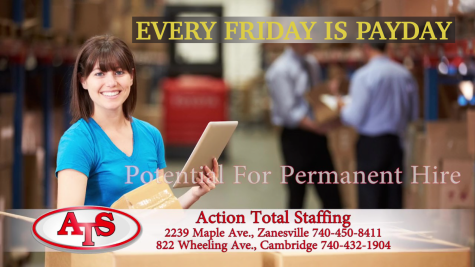 "The residents will stop by my office and say 'how many days until Maggie comes back? Is it this Saturday or next Saturday,'" said Cindy Marshall. "They're worried they might have missed her. Some of the residents have a countdown to the day Maggie will be there."
For some, Maggie reminds them of their own pets, and for others, the visits offer mental relief from tougher times. 
"Some people think, you know, it's just a dog, but it's not," said Lubas. "It's important."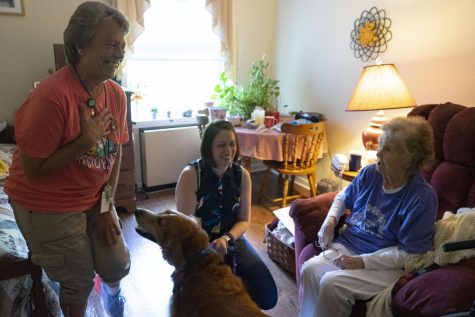 For Rob Reed, visits with Maggie reminds him of his late wife. 
"My wife loved pets and loved animals of all kinds," said Reed. "She just loved everybody, everything. She enjoyed Maggie coming, and Maggie enjoyed coming."
For Henrietta Hurst, Maggie breaks up her day-to-day routine. 
"Well, the thing is, it sort of makes a change in the everyday life. It's something different, and she's always so nice. She's such a nice dog, and I enjoy having her," said Hurst. "It's just the idea that she's here with us, and she's such a good dog. She never gets angry or anything. She's so easy-going, I think."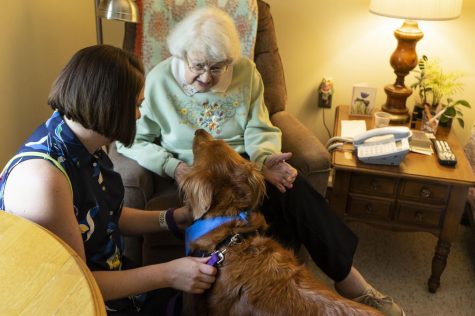 Maggie first started visiting Helen Purcell in 2017.
"I think that part of it amazes me that she understands, I think, why she's there and she understands what she can do, and that makes me so happy that she makes other people happy. I'm glad I have a pet where we're able to do that and help our community," said Lisa Marshall.
As a certified Canine Good Citizen through the American Kennel Club since 2011, Maggie has proved that she can show discipline in stimulating situations around strangers and in new environments. 
She is trained in how to react to distractions in a way that doesn't disturb or upset others.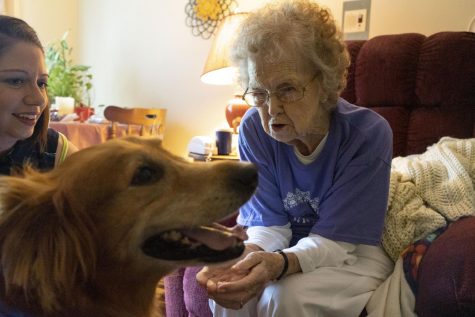 "At nursing facilities or anywhere we may go, you never know what you're going to hear — someone screaming, or someone dropping plates or loud televisions, anything like that," said Lisa Marshall. 
Maggie knows how to maneuver around medical equipment such as oxygen tanks, walkers and wheelchairs. 
When she's wearing her Canine Good Citizen bandanna, Maggie's typically energetic and playful demeanor changes. She becomes calm and senses that the people she's around may not be able to handle her usual greetings.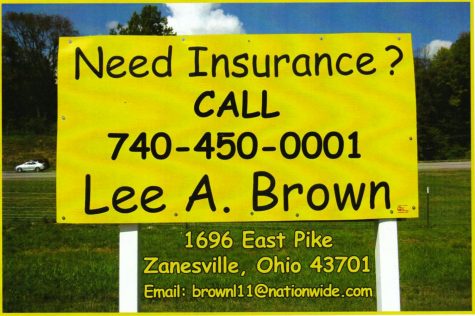 "The big thing is, she knows once she's up with the residents that she dare not jump on anybody. She has never jumped on a resident from excitement," said Lisa Marshall. "She knows she has to keep it calm, I think. I think she knows she's working, she has a job to do."
Marshall said she is amazed by Maggie's ability to read the room and adapt to different situations with residents. 
"She can tell if they're not feeling well and she might stick around a couple extra minutes in their room. She can tell if someone doesn't want to be around her that day and she just turns around and leaves, she just knows not to push it that day," said Lisa Marshall.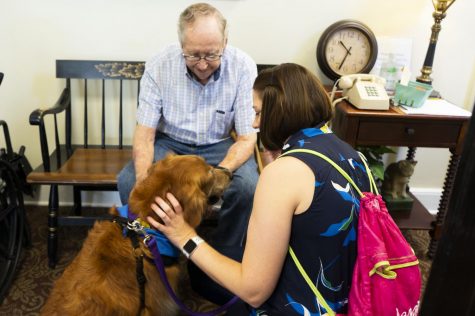 For many of Maggie's regulars, though, the anticipation for her next visit begins before she even leaves. 
"I'll see you the next visit," said Reed. "You be a good girl." 
Marshall plans to keep spreading joy with her dog for as long as Maggie is in good health. 
"I hope we have many years left to do this and give back to the community," said Lisa Marshall.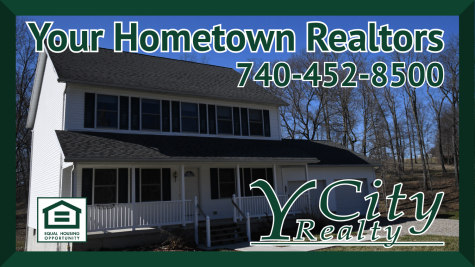 Marshall is also training the next generation of volunteers to take their pets on similar visits through the PetPALS program with the 4-H club she advises. 
The program is the first in Muskingum County and is now in its second year. 
"It's been fun to translate my experience with the youth and help them take their animals to facilities," said Lisa Marshall. 
Fans of Maggie Marshall can follow her Instagram account, @goldenmaggiemay, for photos and videos documenting her life.