Three more sentenced in county jail riot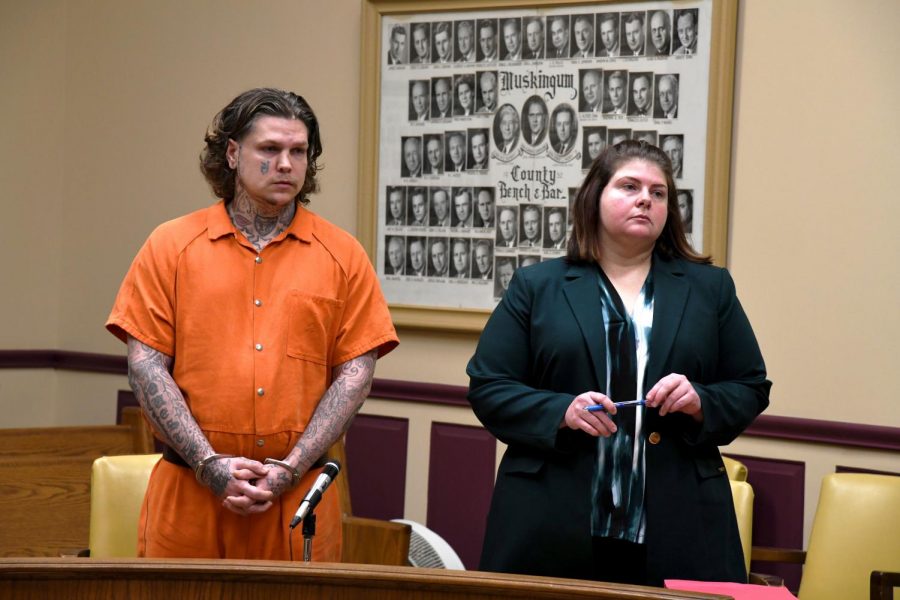 Mark L. Swartz, Christopher M. Rambo and John C. Hampton were all sentenced to various prison time for their involvement in a riot that occurred in the Muskingum County Jail in 2017.
In the incident, seven former inmates in the Muskingum County Jail are accused of  targeting another inmate based on his gang affiliation by pulling him out of his cell bed before beating him and stealing his commissary.
The victim, Kevin Kidd, claims to be a former member of the Aryan Brotherhood, according to Assistant Prosecuting Attorney John Litle.
Kidd suffered injuries to his head, neck and shoulder, as well as a blood clot and a broken tooth, Assistant Prosecuting Attorney Gerald Anderson said in court on Jan 9.
Swartz, who was not serving a previous sentence, received a nine-month sentence on one count of aggravated riot, a third-degree felony, on Wednesday.
Unlike some of the other men accused of the assault, Swartz is not a claimed member of the Real Rider prison gang, Judge Mark Fleegle said during his sentencing.
According to Swartz's defense attorney, he was present during the riot but did not actively participate in the assault.
"I'd like to apologize to the victim and his family," Swartz said during his sentencing.
Along with the other men sentenced in the case, Swartz was also ordered to pay $930 of restitution to the victim for medical expenses stemming from the incident.
He has 76 days of jail-time credit which will be applied to his sentence.
Thursday morning, despite a request of community control from his defense attorney, Rambo received a 12-month sentence for one count of aggravated riot, a third-degree felony.
Rambo was in the Muskingum County Jail at the time of the riot for a misdemeanor, Fleegle said in court. He has been out of jail for about one month on bond.
Amy Otto, Rambo's defense attorney, stated that Rambo is attempting to fight against his drug addiction by attending a program at Muskingum Behavioral Health while out on bond.
While attempting to combat addiction, Fleegle stated that Rambo was unsuccessfully attending the program at MBH and imposed a 12-month sentence for his third-degree felony.
Following Rambo's sentencing, Hampton, who is currently incarcerated at the Southeastern Correctional Institute, received a 36-month sentence to be served consecutively to the prison time he's already serving. He pleaded guilty to one count of aggravated riot and one count of robbery, both third-degree felonies.
Due to Hampton's previous record and misbehavior while incarcerated — relating to the riot and other instances — the State requested the maximum sentence be given in his case.
"Mr. Hampton has an inability to follow rules and follow the law," Assistant Prosecuting Attorney Ron Welch said during Hampton's sentencing.
Hampton's attorney, Kendra Kinney, cited his cooperation with detectives during the riot investigation, as well as his five children that need support as defenses for requesting the minimum sentence in his case. Kinney did admit that Hampton can experience anger management issues at times which could have led to his lack of cooperation while incarcerated.
During his sentencing, Hampton, a member of the Real Rider prison gang, had a chance to speak and apologized to his victim.
"Just I apologize to the victim," he said. "It got out of hand, should've never happened."
Fleegle took an opportunity to reflect on Hampton's record and incarceration reports before imposing his sentence.
"You have not fared very well since you've been locked up," Fleegle said to Hampton in court.
He went on to state that Hampton's behavior does not reflect that of a person who wishes to serve his time and be a rehabilitated member of society, which led to his 36-month sentence.
Six out of the seven men accused of participating in the jail riot have been sentenced as of Thursday. Ryan Viney is the last of the alleged participants to be sentenced. His time of sentencing has not been scheduled at the time of publication.