The art of making cheese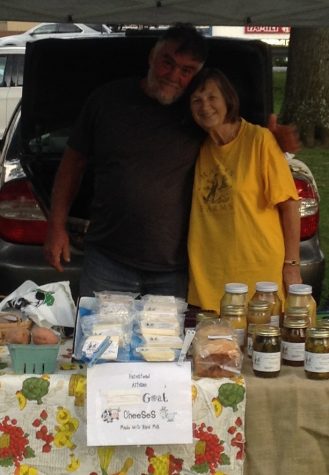 When David and I retired, he still wanted to have animals around. He had a few beef cows and added some goats. Shortly after, a few individuals approached him about raw milk and he started a herd share, where people bought shares of our goat herd in exchange for the milk they produced. The problem with that was there was more milk than customers, so we decided to try our hand at cheese making. After a few years, David didn't want to continue milking. I wanted to keep making cheese. Luckily, we found a young man who was milking goats and looking for another customer for his milk.
Raw goat milk is a complete food containing beneficial bacteria, carbohydrates, cholesterol, enzymes, fats, minerals, proteins and vitamins. It works to reduce allergies, improve skin health, prevent nutrient deficiencies and is more easily digested than pasteurized products, as it contains no added sugars or synthetic ingredients. Many individuals who cannot tolerate cow milk do tolerate goat milk.
The process of cheese making is long, labor-intensive and more complex than one might think. The milk is brought to a designated temperature for the culture to be added. The culture is in the milk for up to 11 and a half hours depending on the type of cheese being made. Next, rennet is added to solidify the milk, making the "curd." This step takes 30 to 45 minutes. The curd is cut, rested and then "cooked." Cooking the curd takes various forms depending on the type of cheese being made. This step takes several hours and requires constant stirring.
Once the cheese is cooked, it is formed. The curds are now salted or not. If not salted here, the cheese will be placed in a saturated brine after it is pressed. The curds are placed in a mold, then pressed with different amounts of pressure. Each time the weight is changed, the cheese is removed, redressed and replaced into the molds. The total pressing step takes 12 to 24 hours. The entire process takes all day. We frequently start at 9 am and finish around 8 to 10 p.m.
We believe our cheeses offer something different than the run of the mill cheeses offered at grocery stores. We make our cheese with 100 percent raw goat milk, with the benefits previously stated. Nothing is added to the cheese except the ingredients required to make it into cheese. It has no artificial coloring, filler or preservatives. We work with small batches (50 gallons) of milk at a time, by hand, with care and attention and we hope that comes through in the flavors you find with each type.
Those interested in trying raw goat milk cheese or learning more about what goes into cheese making are invited to visit the last Fall Farmers Market of the 2018 season at Weasel Boy Brewing this Saturday from 11 a.m. to 2 p.m. Visitors can expect to find a variety of artisanal products, baked goods, pasture-raised meat and seasonal produce, along with live music and made from scratch breakfast pizzas, featuring local farm eggs.