Santa for Seniors 'adopting' older community members to spread some joy
A Hallmark movie and a sentimental moment mourning the loss of her grandma led one woman to provide a little Christmas cheer to people who are often forgotten.
"It started out just a stupid Hallmark channel movie and just an idea from myself and some coworkers and then, like I said, the power of social media can be a good thing," Jamie Crozier, the founder of Santa for Seniors said.
While watching a Hallmark movie about an older woman that was "adopted" by her caring neighbors, Crozier thought about her grandma who had passed away last year, and it sparked a wanting to help older people who may feel a little less love during the holiday season.
After a post on Facebook and help from some coworkers at Applebees, Crozier was able to organize the adoption of 13 seniors to receive gifts from community members during the holidays.
This year, the operation has expanded to adopting 38 seniors living in the Cedar Hill Care Center. Originally, the idea was to provide gifts for older people who may not have any family or visitors "spoiling them," Crozier said. In addition to her co-workers at Applebees, community members and even supervisors at Spectrum Call Center have reached out to Crozier to adopt seniors for the holidays.
"This year we've kind of surpassed that, and of course we've adopted the ones that didn't really have a family and the nursing home gave me just a first name and a basic Christmas list from them," she said.
A basic list containing things like pajamas, slipper socks or a sweat suit.
"Nothing that's outrageous whatsoever," Crozier said.
Providing specific presents for the holidays was the goal, but Crozier took it one step further by creating bins filled with basic items that could be distributed all year long. While Cedar Hill's seniors will be receiving specific items from their Christmas lists, Crozier is hoping to donate a bin full of presents to each of the seven nursing homes in the area, so a little extra joy isn't reserved for only the holidays.
"I'd like to be able to say to them, 'Here you go, here's a tub of items if anybody needs a blanket or socks or just basic needs," Crozier said.
Last year, one of the generic items on the donation list was soda and soft candy bars, simple items that Crozier said she wouldn't necessarily consider luxuries. But, when working with Cedar Hill's Activity Director, Sandy Bartoli, Bartoli explained that there isn't always room in a senior's budget for such items.
"She said, 'I want to explain to you why I put that on there,'" Crozier said of her conversation with Bartoli. "She said, 'Some residents at the end of the month, you know, when the bills are paid, they can't afford (it) if they wanted a bottle of pop or a can of pop … that stuff is considered a luxury."
The feeling of giving the seniors a small gift is one that Crozier said is unmatched. Some of the people who received the simplest of gifts reacted in the most heartwarming ways to the items they received. One man in particular pulled a lot of heart strings as he cried after getting his present last year.
"He cried with us and he said, 'Nobody has ever shown me this kind of kindness … you really touched my heart," Crozier said. "And then, of course, we're all crying."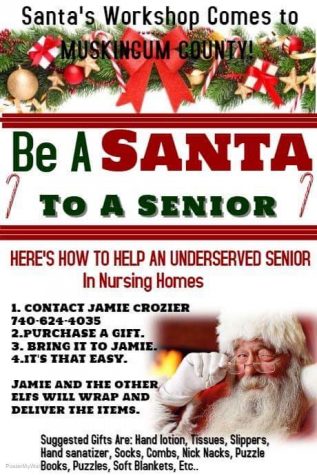 Another woman in the nursing home that was adopted last year showed a similar response.
"The lady that adopted her got her just a purple throw and one of the things was diet Pepsi," Crozier said. "You would've thought we just gave her a million dollars. She was so excited. She told her roommate, 'Look I have my own blanket, I have my own blanket and now I have Pepsi.'"
On Sunday, Dec. 16, between 12 and 4 p.m. the elves of Santa for Seniors along with the South Zanesville Fire Department and Characters Express are donating time to get Santa and Mickey and Minnie Mouse to visit with the seniors while presents are delivered.
In addition to the character excitement, one of the women involved with Santa for Seniors has grandchildren that are making a goody bag to deliver to every senior in the nursing home.
Anyone interested in donating to Santa for Seniors can contact Crozier at 740.624.4035. She said she is willing to meet up with anyone who is gracious enough to donate.
Community members are also invited to join the group to deliver presents and visit with seniors during the Dec. 16 event.
Suggested donations items include:
slipper socks
soft blankets or throws
stuffed animals
word search or puzzle books
lotions
cologne sets
brushes or combs
jewelry (long necklaces or bracelets)
pop (regular or diet)
soft candy and snacks
pens
sweaters
coloring books and crayons
cups with straws
white T-shirts for men