Year-round gardening
Market farming for us has been a slow evolution of growing food and sharing with neighbors and friends. I have always been involved in gardening and raising food. As a young boy, I spent many hours with my father working in the garden, however, I find it is much easier to appreciate the work as an adult. Never would I have dreamed that this would be the path I would choose for my vocation, and I think my dad would be a bit surprised also. I still remember the pride that would come over my dad as his gardens would grow and flourish, then when I started my own garden, I see how that pride flow even more. The time-tested advice that I remember has served me well as I pass this on to my daughter and anyone else willing to listen. The satisfaction in knowing that I can contribute to continuing the ways of my forefathers is one of the reasons I farm!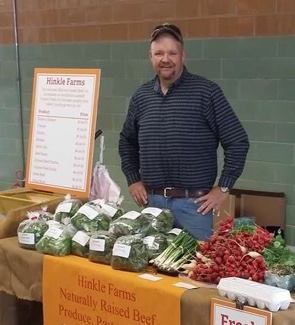 Here on our farm, we still grow with the old tools and techniques with a twist on modern advancements. High tunnels are used for season extension. For example, tomatoes are now expected in early June instead of July. Utilizing the high tunnels allows us to increase the temperature of our growing environment to nearly the same conditions as Atlanta, Georgia. Just that one layer of covering over the crops gives us that protection, without any additional heat or lighting. We are able to grow fresh seasonal produce all year long.
We currently have arugula, beets, carrots, kale, lettuce, onions, radishes, spinach and turnips for market. Speaking of a twist on modern advancements, we are now raising microgreens. Some of our favorite microgreens are broccoli and our micro-mix. They are less than two weeks old and still not to the true leaf stage when harvested. It's funny how the broccoli greens taste just like a head of broccoli or how the radish greens taste just as if you were eating a radish bulb. We like to use them in salads and soups. Pizza is also a favorite of mine topped with radish microgreens. The uses are endless and the taste is exceptional, along with the nutritional benefits.
Safe, nutritional food for my family and friends is how our journey began. The love of planting, nurturing and harvesting our own food is very important to me. I welcome any new or experienced growers who have questions or advice on these techniques that can help to improve all of our gardens, from the hobbyists to the market gardeners. I encourage everyone to try to grow something. No matter how small or how large you decide to try, don't be afraid to ask for advice. Remember the only dumb question is the one not asked. Happy gardening!
Anyone interested in learning more about gardening or trying locally grown food is invited to chat with knowledgeable farmers and growers at the Fall Farmers' Market every Saturday, 11 a.m. to 2 p.m. at Weasel Boy Brewing. The market will continue through Dec. 15.