Tri-Valley dispels the Magics, 10-0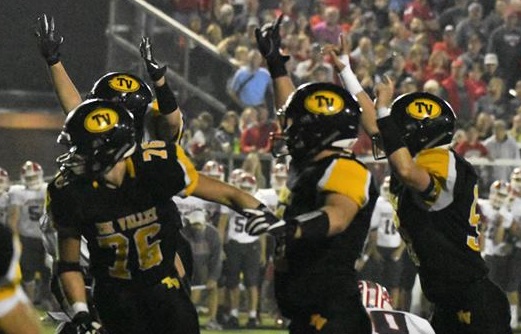 Coming into Friday's night opening round playoff game, Tri-Valley was the underdog, pitted against the undefeated Barberton Magics and stud-sophomore running back Kyree Young. It was an uphill climb at best for the Scotties.
But all the magic belonged to Kevin Fell and company.
Holding Barberton to 285 total yards and zero trips to the end zone, Tri-Valley found the winning formula — limit Young's big plays, keep the pass in front of the secondary and manage the game offensively with little risk taking and plenty of high-percentage passes.
Lo and behold, that simple plan led to a 10-0 win for the Scotties.
Young still produced 107 yards on 16 carries, but a stagnant passing game doomed Barberton, limited to just six yards per completion before Chase Haywood connected on a long pass as the clock expired. The Scotties locked up nearly every passing lane, allowing most passing yards on two completions — the last connection and a 41-yarder for Derrick Vaughn.
The lone touchdown of the night came late in the second quarter on an errant Magics pass that sailed over the head of the intended receiver, plucked from the night sky by Cade Sterling who scampered back 35 yards for the score. That, plus a Kaden Bay field goal in the first quarter, was plenty by the end of the night.
Sterling picked off two Barberton passes at the end of the night. Both Luke Fargus and Aiden Fritter threw interceptions for the Scotties, but the lockdown defense and excellent game management throughout were the difference, including solid running for Blake Sands, who rattled off 76 yards on 16 carries.
Fritter went 8-for-14 for 113 yards and hauled in five passes for 33 yards. Linebacker Chase Kendrick went off for 10.5 tackles and three tackles for loss, and the entire defense played far above expectations.
After moving up to Division II this off-season, some wondered how Tri-Valley would respond. Clearly, those questions have been answered.
With the win, Tri-Valley is one step closer to return to the championship. But the road is far from smooth from here on out, with undefeated Wadsworth up next for the Scotties.