Furry Friend Friday: This pup Hopes to find a loving home
The 8 to 9 month-old pup is a little more skittish than most, but for a good reason.
Hope came into the Muskingum County Dog Warden and Adoption Center after being apart of a Humane Society case. Hope came into the adoption center with her brother, Baker, and mom, Cocoa.
All three of the dogs were left in a home for about three weeks. The family that lived there left the home and abandoned the dogs.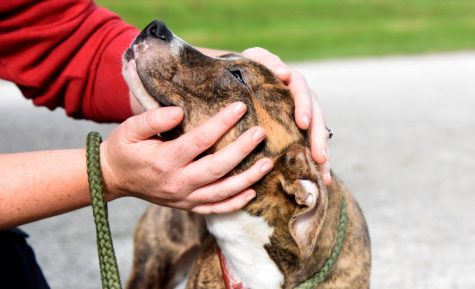 "All three of them have a different personality so I think it affected all three of them differently." Deputy Dog Warden Brittany Callihan said. "I think Hope took it the hardest, so she's still adjusting, she's scared of everything. But she really, really likes people."
Callihan said that all of the dogs came in pretty skinny, but they have all put on some weight since coming into the adoption center less than two weeks ago.
Hope, a Terrier-Pitbull mix with a light brindle coat, enjoys spending most of her time outdoors.
"I think that she would do good in a home with anyone who just wants to give her love, attention and spoil her," Callihan said. "She definitely wants to be by your side and she's very easy to walk."
She has not been spayed as of Friday, but she is about to be on the warden's list to receive the treatment. Once that's complete, Hope will be ready for a new adventure in a good home.
Hope will soon be available for adoption at the Muskingum County Dog Warden and Adoption Center. Anyone interested in adopting her can call the center to set up an appointment for a meet-and-greet at 740.453.0273.