Monday Muskingum County football flashback: Week 4
Friday night was a muggy one, but fans still turned out in waves for their hometown heroes.
Highlighted by a pivotal Muskingum Valley League matchup between Philo and John Glenn, as well as Morgan and West Muskingum each getting a chance at their first victory this season, things got interesting this week.
Without further adieu, welcome to the fourth installment of Monday Muskingum County football flashback.
Philo 15 – John Glenn 13
Fun times in McConagha Stadium.
Defense was the name of the game by far on a clear night in New Concord. But storm clouds rolled in just before halftime in the form of anger from Muskies head coach Matt Edwards.
Following a pedestrian first half for both sides, apart from a stellar 38-yard field goal for Colton Stotts of the Electrics and a 33-yard connection for a touchdown for the Muskies, Philo picked off an errant John Glenn pass. After a 24-minute commotion to sort out penalty yardage, Dirk Lincicome's team rode the momentum of a half-ending kick from Stotts to a close win.
Philo proved what many had assumed coming into the season — the Electrics are as physical a team as they come.
John Glenn, meanwhile, showed the grit and determination Edwards loves, but has now a 1-3 record that puts them near the bottom of the conference deadlocked with Morgan at 1-3 overall but still lacking a conference win.
The game itself was not spectacular on paper, with Philo out-gaining John Glenn with 190 yards, compared to the Muskies 161. Muskie quarterback Evan Williams threw three picks, while also fumbling. The Electrics nearly cost themselves the game with a fumble on an inside run with less than two minutes to go that set up a late touchdown for receiver Ben Larson.
But the football purists who enjoy the game at its core — a grinding, heartbreaking, painful and somehow beautiful struggle — were all over this one Friday night. Add another memorable night to the record books for Muskingum County.
The Muskies will meet Maysville on Friday in what promises to be another tight bout, while Philo will face their most daunting foe of the season against Tri-Valley.
Morgan 48 – West Muskingum 13
Wesley Pauley's name will be murmured throughout the halls of Morgan High School for the entire week.
That tends to happen when you set a school single-game record for touchdowns against West Muskingum. Racking up 228 total yards, Pauley was an unstoppable force against the Tornadoes.
West Muskingum found the end zone thanks to running back Mitchell Griffin and a connection between Harley Hopkins and Landon Murrey, but 13 points was far from enough to survive the onslaught from Morgan. The Raiders have now pulled in front of John Glenn in the MVL rankings, while the Tornadoes continue to stumble at 0-4.
Morgan has the ultimate opportunity to start a winning streak against a struggling Crooksville team, while West Muskingum plays one of the best teams in the conference against Sheridan.
Maysville 20 – New Lexington 8
Speaking of the Panthers, Maysville and New Lexington met in a battle of big cats — Panthers to be more accurate.
Following back-to-back losses, the steady running of Caden Mercer has put Maysville back in the middle of the MVL pack. Against New Lexington, he picked up 118 yards and a touchdown on just 17 carries.
The only scores for New Lex came thanks to C.J. Ratliff on both a touchdown run and two-point conversion. After showing a dynamic attack in their first three games, the Panthers were held to just 192 yards of offense.
Maysville will now meet a John Glenn team that might be playing with an edge after Friday's defeat, while New Lexington has an out-of-conference date with Coshocton.
Tri-Valley 49 – Crooksville 0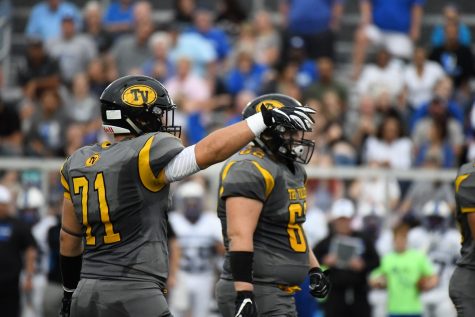 The Scotties looked challenged last week against Zanesville, but that certainly was not the case against the Ceramics.
Defensively, Tri-Valley played lights out, limiting the Crooksville to almost a single yard per play. On top of the yardage dominance, sophomore running back Jordan Pantaleo kept his crazy pace going with 11 rushes for 110 yards and two scores.
Carson Simpkins grabbed two touchdown receptions in the first quarter, while Luke Fargus played well throughout the night. Brayden Glanemann provided one of the few highlights for the Ceramics with an interception in the second quarter.
Tri-Valley will square off against Philo Friday, who has historically been a tough play for the Scotties. Crooksville, however, pulls an interesting opponent in 1-3 Morgan, who's fresh off their first win of the 2018 season.
Zanesville 34 – River View 0 
The Blue Devils rushing attack was far too much for the Bears.
Jalen Haley's hard running provided 91 yards on 17 attempts with two scores, while River View failed to put any points on the board. Starting things out, neither side found offensive success before Zanesville leaned heavily on Haley during a drive late in the first quarter into the second, before he pounded the rock in from six yards out.
While it would have been the decisive score, the Blue Devils were not done with two scores, as Julius Murphy added two scores of his own on the ground and quarterback Ben Everson connected with Jeremiah Norman for a touchdown.
River View's up and down season continues against Barnesville Friday, while Zanesville will face Miami Trace, who they picked apart in quick fashion last season.
Bishop Rosecrans 39 – Fairfield Christian 0
Carter Dosch's absurd 207 yards and three touchdowns on the ground was plenty for the Bishops to down the Knights, but quarterback Cam Nagy wanted in on the scoring action too.
Nagy completed less than 50 percent of his passes, but still managed 205 yards and three scores through the air. All told, Bishop Rosecrans earned 503 total yards.
Fairfield Christian, however, was not as fortunate. Turning the ball over twice and earning just four first downs, there was little that was done on the offensive side of the ball for the Knights to limit the tandem of Dosch and Nagy.
Was it mentioned Dosch also had a receiving touchdown from 64 yards out?
The Bishops are now 4-1 this season, and will be pitted against Harvest Prep next.