Camper fire causes structure fire on Sonora Road
A structure fire broke out behind a residence on Sonora Road around 2 p.m. Tuesday.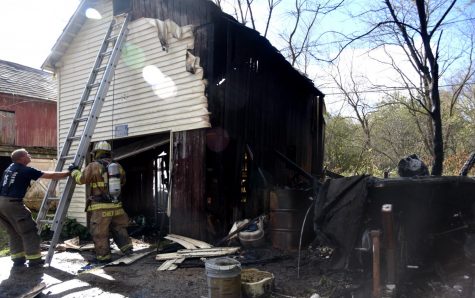 Perry Township, New Concord and Washington Township Fire Departments responded to a fire that began in a camper behind a rental home at 2595 Sonora Rd.
The fire, which started with the camper, caught a nearby boat and a two-story garage on fire. A portion of the ground, a wooden fence and a large tree in the backyard were all smoldering due to the flames, Perry Township Fire Chief Bruce Sindeldecker, said.
Sindeldecker said that both the camper and boat are a total loss. The two-story garage will also likely be a total loss, he said.
No injuries were sustained and no one was at the residence during the time of the fire. The rental home is in the process of being cleaned out by the home owner.
A nearby neighbor called the fire department, as well as the homeowner after seeing the fire.
Sindeldecker estimated the total loss of the items on the property to be around $50,000.
Firefighters were still working to clean the area up around 2:50 p.m. The road was still blocked off by fire trucks at that time.
The fire is under investigation and the cause is unknown at the time of publication.