Monday Muskingum County football flashback: Week 8
Philo earned vital playoff points, but the team was far from the only group to pull off a big victory on Friday.
The Muskingum Valley League had a bit of a shake up last week, and the playoff picture is starting to clear up for some teams, while others are anxiously awaiting to see what their fate is.
From big-time upsets, late-game gambles and a thumping of epic proportions, Friday was a wild one.
Buckle up.
Philo 14 – Maysville 13
Going for the win on your home turf is a solid plan when it works out, and a terrible decision if it does not.
Unfortunately for Maysville coach Craig Clarke, his choice to go for a two-point conversion with just a tick over a minute left in the Panthers conference game left the team at 4-4 with just two games to go. As for Philo, the team built around toughness and sound fundamentals continues to pull off hard-fought wins.
Both sides total yards gained were nearly identical, but between-the-tackles running from the Panthers wore on Philo's defense all night. However, even after being battered and bruised all night by fullback runs and physical play in the trenches, the Electrics found one more defensive stand, thanks to a diving tackle from linebacker Brock Luburgh.
Caden Mercer and Hayden McGee found the end zone for Maysville, with the former plunging across the goal line in crunch time. But as quarterback Cole Tompkins scrambled right and tried to cut up field to take the lead, the Philo defense swarmed him at the two, before recovering the onside kick and salting the game away.
Hunter Adolph was on fire all night, connecting on a pair of touchdown passes and setting the pace, even with a rushing attack that gained just 66 yards on 26 carries. The Electrics can hop into the playoff race, with two teams in front of them dropping their games Friday, while Maysville will look to rebound and end the season on a high note.
John Glenn 14 – Tri-Valley 7
Perhaps the biggest upset this season, John Glenn found a chink in Tri-Valley's armor, sending the Scotties back to Dresden with their tails tucked between their legs.
Tri-Valley still holds the overall lead in the MVL thanks to a big win over Sheridan, but Kevin Fell's team looked anything but the titan they have been all year long. Three turnovers, a sub-40 percent completion percentage as a team and a total lack of a running game led to the first loss this season for the Scotties.
John Glenn's offense was far from perfect, with Evan Williams throwing a pair of picks and Brady Emerson held to just 40 yards on 12 carries. But an early punt return for a touchdown by Joseph Clifford from 97 yards out and a big night defensive for Ben Larson helped set up the upset.
With the score knotted at 7-7 and Tri-Valley backed up deep in their own territory, an Aiden Fritter pass was snatched by Ben Larson for his second pick of the night. That play set up a short field and a quick drive that culminated in a Parker Zachrich touchdown plunge from the one-yard line.
John Glenn will still likely miss out on an MVL title, but earned a key win to boost playoff points. Tri-Valley will have two winnable games to round out the year with West Muskingum and Maysville just ahead, but don't count anything out yet.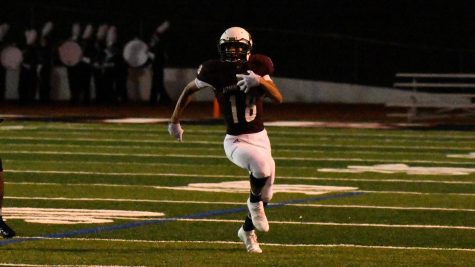 Dover 37 – Zanesville 7
Looking out of the MVL for now, Zanesville had a humbling experience against a tough Dover team.
Outplayed by the Crimson Tornadoes in nearly every facet of Friday night's game, the Blue Devils four-game win streak was snapped. Quarterback Ben Everson went just 7-for-17 through the air for 47 yards.
Jalen Haley and Julius Murphy teamed up for 20 carries and 117 yards, while JC Curtis pounded in a three-yard score, but that lone touchdown was far from enough. Dover quarterback Alec Sayre was nearly unstoppable, going 19-for-24 for 222 yards and two touchdowns, while also rushing the ball 16 times for 56 yards and three more scores.
The Blue Devils sat at No. 12 in their region for the playoffs, which makes the late loss all the more painful. Next week, they get an intriguing matchup against New Philadelphia.
Crooksville 44 – West Muskingum 12
The Tornadoes held a 6-3 lead at the end of the first quarter, but the Ceramics came roaring back in the second half to put away West Muskingum.
Quarterback Noah Dickerson tossed three touchdowns, while running back David Chapman added 85 yards and a score on the ground. For the Tornadoes, quarterback Harley Hopkins struggled to connect with his receivers, throwing two costly interceptions, although he did produce two ground scores.
Crooksville rattled off 21 second-half points en route to their second win this year, and held the West Muskingum offense to less than 100 yards through the air. West Muskingum will now have to face a Tri-Valley team coming off their first loss of the season.
Berne Union 41 – Bishop Rosecrans 14
Running back Chaz Dickerson blasted past the Bishops defense for 266 yards and three scores on the ground, while the Rockets defense did not yield a single third-down conversion to Rosecrans.
Met with one of the more complete running games they've faced all season long, the Bishops stuck with Berne Union in the first quarter. However, their offense sputtered at crucial moments, even after reeling the Rockets back in to make the game 21-14 in the third quarter.
Immediately following a Cam Hagy rushing touchdown — his second of the day — Berne Union's Kolt Colbertson took the ensuing kickoff 80 yards for a score.
Carter Dosch led the way for the Bishops, picking up 92 yards on 19 carries, while Hagy punched across the only two scores.
Rosecrans travels next to Grove City Christian.