When Ohio Governor Mike DeWine arrived in Cleveland in mid-September for a joint press conference on crime, he did so in a multi-million dollar state-owned plane, along with an entourage of staff.
The aircraft, according to flight data obtained by Y-City News, has flown across the state, used by the governor to promote tourism, respond to disasters and reach far-off locations that would take hours by motorcade.
Usage of the plane, a Beechcraft Super King Air 350i, however, can cost up to $500 an hour to operate and is only flown on average once per week by either DeWine, his Lieutenant Governor, Jon Husted, or other officials.
Instead of being transparent about its usage, the administration, in an effort to shield its flights, requested the plane's flight history be removed from aircraft tracking websites; media releases also don't indicate when officials, like the governor, will be arriving by plane.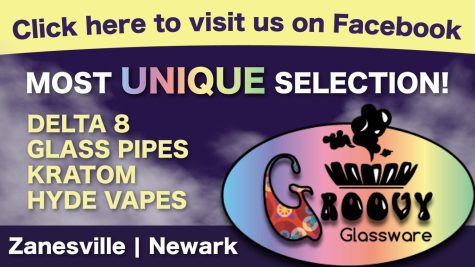 Annually each May, officials in the Buckeye State celebrate Ohio Tourism Day, an event which is designed to shed light on the many wonderful places and landmarks across the various 88 counties.
This year, Gov. DeWine announced he and his Lt. Gov. Jon Husted would be making three stops: at the Karamu House Theatre in Cleveland, to Fifth Third Field in Toledo and then finally on to the Boonshoft Museum of Discovery in Dayton.
It was during their visit to Cleveland, and subsequently to their visits later that day to Toledo and Dayton, that the administration announced they would reintroduce the "Ohio, The Heart of it All" tagline, the state's tourism slogan previously introduced in the 1980s.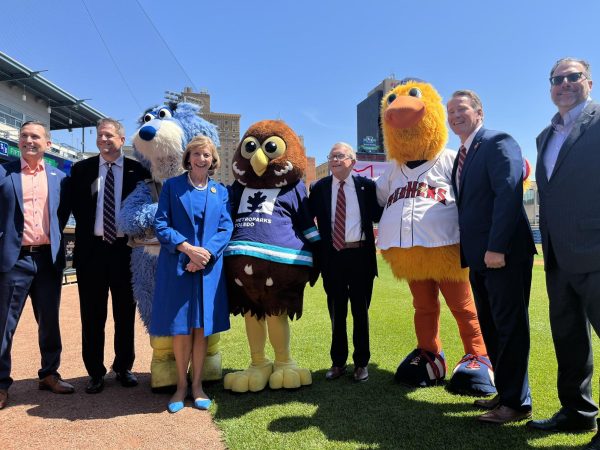 If done by driving, the trip would have been almost impossible, the travel time alone, not accounting for engagements at each stop, would have taken nearly seven and a half hours, roughly 480 miles.
As the Columbus Dispatch has previously reported, during DeWine's first year in office, in 2019, the governor made regular use of the state plane for travel, they calculated 28 trips at a cost of $39,343.
In 2015, the Ohio Department of Transportation traded in two aging planes, netting the state $1.3 million. In return, they purchased a $4.25 million, seven-seat Beechcraft King Air 250, and a nine-seater Beechcraft King Air 350i, for $6.7 million.
The latter of which, DeWine's primary means of air travel, has a tail number that is often obscured. Combing through flight ownership records of all ODOT planes, we identified the tail number of the Beechcraft King Air 350i as N860H.
What we discovered is that on flight tracking sites, such as FlightAware and Flightradar24, information was not available, due to a request that had been made by the State of Ohio to not publish those flight records or allow live tracking.
Using a particular resource, which offered us unfiltered, uncensored live flight tracking as well as a historic catalog of aircraft travel, we were able to piece together where that plane had gone.
Sure enough, N860H traveled from Columbus to Cleveland, from Cleveland to Toledo, from Toledo to Dayton, and then back to Columbus on May 10, Ohio Tourism Day.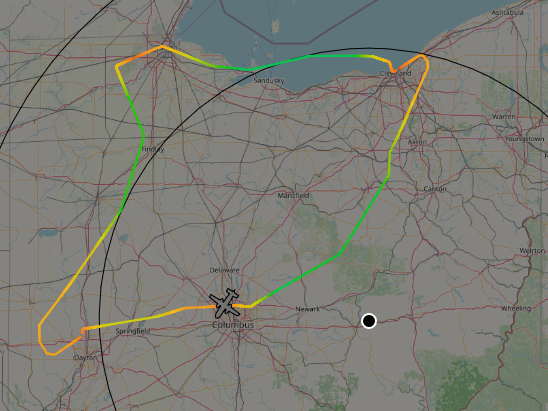 Our story likely would have ended there, we wanted to do a positive piece on how that plane helped Governor DeWine travel the state, particularly as it related to Ohio Tourism Day, promoting the Buckeye State to those outside our borders, but when our request went unanswered, we went through a year's worth of flight data to see if maybe there was something they didn't want us to see. It appears we are the first to use flight tracking data, not expense reports and aircraft logs, via public record requests, to track the governor's movement via aircraft around the state.
We found DeWine only used the plane once to travel to rural south-central Ohio, in the one year of data we pulled, on October 7, 2022. On that day, the Governor visited three manufacturing facilities, one in Springfield, another in Ontario and finally, one in Ironton; all three site tours were made possible via the Beechcraft King Air 350i.
It's not, however, the only time DeWine visited the lower, less populated, part of the state. The following day, on Saturday, October 8, DeWine was in attendance at the Hocking Hills State Park, in Logan, Ohio, for the grand opening of the new Park Lodge and Conference Center, an hour-long drive from the Statehouse.
Often when the drive time is less than 90 minutes, according to our collection of flight data, the governor will travel the entire trip by motorcade, like when he visits Zanesville, which is approximately an hour's drive from the Capital.
The plane has also proved invaluable when responding to disasters, such as the East Palestine Train Derailment. What would have been a roughly three-hour drive, over nearly 200 miles, became a 40-minute flight.
Landing at the Beaver County Airport, in Pennsylvania, it was only about a 20-minute drive to the site of the derailment from the airport, allowing DeWine to make visits with local residents and officials who were impacted.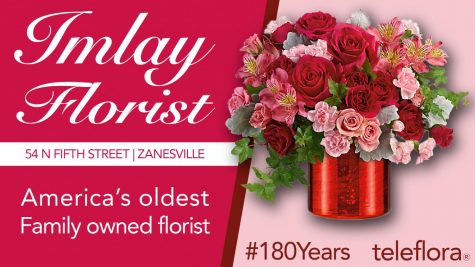 In many cases, like on Ohio Tourism Day, the plane is used for multiple stops throughout the day, maximizing the use of the pilot and the governor's ability to meet with more of his constituents and local reporters.
While it varies, the likely average cost per flight hour is $500 – however, that doesn't factor in depreciation of the plane, which by our calculations, is only used on average once per week. The aircraft, like its sibling, the Beechcraft King Air 250, tail number N387LJ, also owned by the State of Ohio, is based out of The Ohio State University Airport, adjacent to the Ohio Emergency Management Agency's nuclear-resistant bunker, though like other such facilities dotted across the state, could not survive a direct strike.
When we received notice that DeWine would travel to Cleveland to meet with officials and the media for a status update on the progress of the state's ongoing violence reduction partnership with the Cleveland Police Department, we figured he would travel by plane, as he had in the past. Our assumption turned out to be right and N860H flew into the city minutes before the event. At the conclusion of the press conference, we rushed to our vehicle and then to the airport we had identified that he flew into, not sure if his motorcade would be making additional stops, as it sometimes does.
It did not, and within minutes of our arrival we captured DeWine and his entourage making their way to the plane. The flight each way took about 40 minutes, the drive would have taken the governor roughly two hours. Unlike in the majority of flights, that destination was the only stop the Beechcraft King Air 350i made on that particular Tuesday after departing Cleveland, returning shortly to Columbus after takeoff.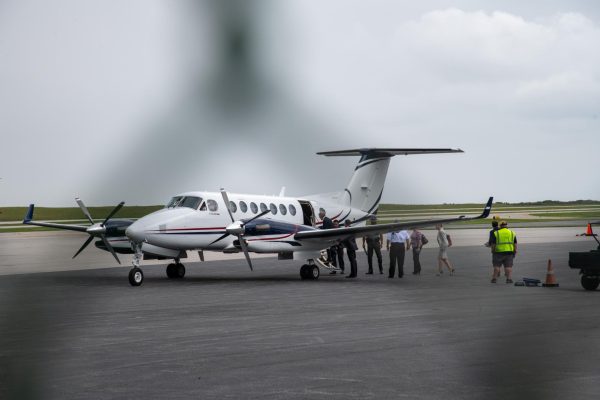 Between July 1, 2022, and June 30, 2023, we found that the aircraft had flown on only 53 days. Its farthest flight was to Albuquerque, New Mexico near the end of January of this year. It also flew to Washington, D.C. in September of 2022, neither corresponding to any official travel by DeWine. The plane technically, if fully loaded on fuel, has the ability to fly almost anywhere in the Contiguous United States, though it does need roughly 3,330 feet of runway to take off, which excludes some rural Ohio airports.
During his opening remarks while in Cleveland, DeWine said that he and Mayor Justin Bibb had watched the Cincinnati Bengals play the Cleveland Browns on Saturday, September 10 together; it appears that trip to Cleveland, from Columbus, was made by vehicle.
Details about Gov. DeWine's protection detail, as well as certain security measures, have been limited or withheld entirely to protect the safety of the governor and state continuity of government procedures.